What If Tinder Came Out in The '80s? Video Spoof Makes It So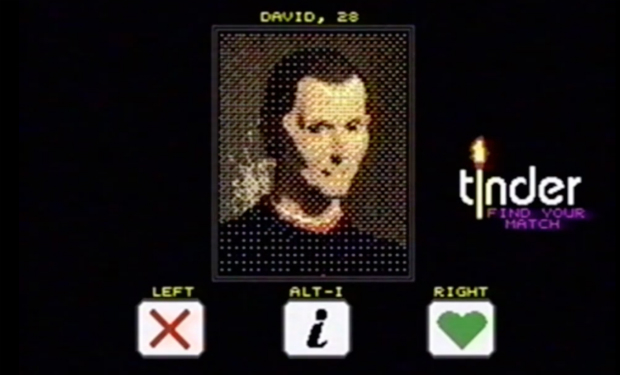 Posted by Nick Romano on
Tinder is practically an institution at this point. It's the new OKCupid, except far more easy to completely skip past the fuglies and get straight to the real business: getting to know nice neighbors with which to play cards and go to church. At least, that would've probably been the selling point for this app if it were invented in the 1980s.
A new video spoof from SquirrelMonkeyCom — a group of YouTube video makers obsessed with nerdy, retro and/or just plain funny videos — and their vision of a vintage, floppy disc-powered Tinder seems pretty accurate. Watch it now.
It's super easy to sign up! All you have to do is print out a registration form, fill it out, take a picture of yourself and paste it (using glue or tape, we presume) to the profile photo box on the form, mail it in, and then wait 5-7 business days to receive a floppy disc in the mail. Of course, you then have to install the software on your computer, which needs to have a modem and an EGA card. But then you're good to go. See? Easy!
The '80s version has at least three things in common with Tinder classic: it's designed for lonely people who are shy and in need of dates. Though, we doubt anyone would take a Tinder take to church. That's, like, counterproductive. From a Millennial standpoint, everything else seems like Stone Age technology. Can you imagine waiting 7-8 seconds for each "swipe left" move to process? All the guys would've likely found other means of satisfaction before they found someone to "go to church" with.
In addition to Tinder, SquirrelMonkeyCom produced a couple more videos reimagining modern technologies as '80s applications. They've given this treatment to Instagram…
…Wikipedia…
…and Google.
You can watch more videos like these on their YouTube page.