Watch the Super Troopers Go Through Basic Training Police Academy Style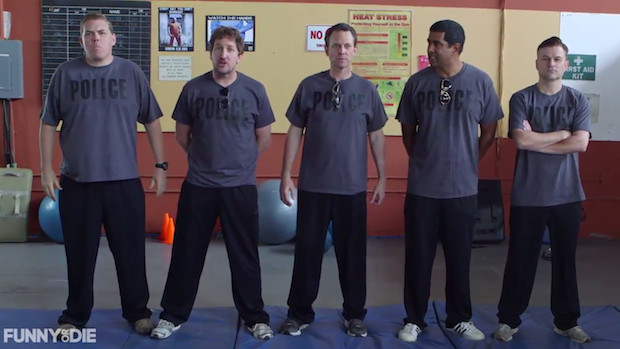 Posted by Mike Schuster on
Did you know the entire cast of Police Academy underwent actual police training before shooting each entry in the franchise? You didn't? That's because that group of pansies wasn't as dedicated to the craft as Broken Lizard, better known as the cast and crew behind the upcoming and much-anticipated sequel, Super Troopers 2.
Once the troupe achieved their Indiegogo funding of $2 million towards the movie's budget after a mere 26 hours, they kicked into high gear and subjected themselves to some boot camp brutality. Well, at least their stuntman did.
As seen in the footage posted to Funny or Die, the team struggles to return to that fake-Vermont-trooper groove as they wholly abandon the physical training and half-ass their way through police codes, only to pass the hard stuff (read: everything) off onto the hapless stuntman. On the bright side, they can get a fairly detailed, first-hand description of what it's like to be tased.