Jeremy Renner Stands Up for Hawkeye Through Song Because No One Else Will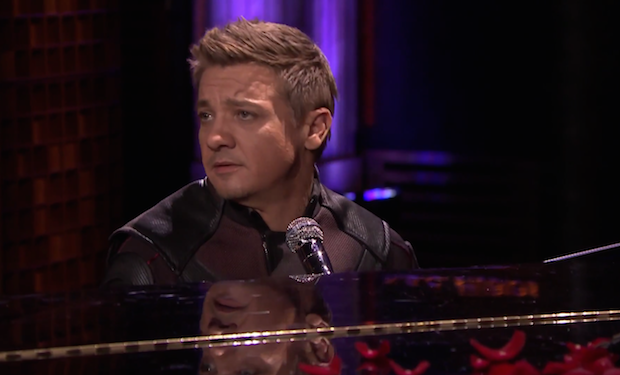 Posted by Mike Schuster on
When compared to the Norse God of Thunder or an indestructible gamma ray victim with anger management issues, having keen archery skills sorta pales in comparison. As such, soon after the first Avengers movie premiered in 2012, Marvel character Hawkeye (played by Jeremy Renner in the Marvel franchise) became the comic book whipping boy and superseded Aquaman as the go-to punchline for a lesser hero with lame superpowers.
But Clint Barton isn't taking this lying down anymore! (Clint Barton is Hawkeye's alter ego, by the way.) Appearing on The Tonight Show with Jimmy Fallon, Renner tickled the ivories and defended the many overlooked abilities that his character possesses — like Tinder swagger and killer ska trombone skills — set to Ed Sheeran's "Thinking Out Loud."
Give a listen to Renner's dulcet tones and, for once, let's cut ol' Hawkeye some slack.