Watch The Simpsons While Lounging on Homer's Couch With This Oculus Rift Hack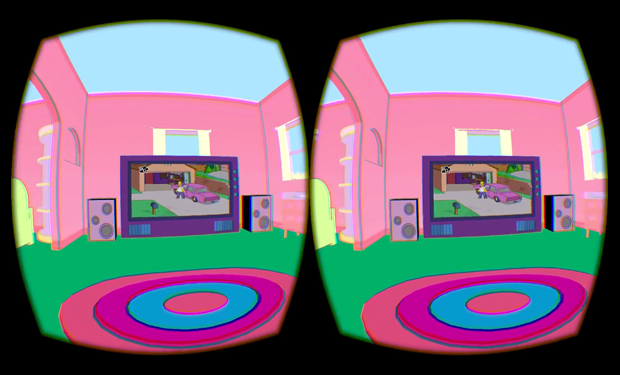 Posted by Mike Schuster on
Although virtual reality had a false start in the early-'90s with toe-dipping experiments like Lawnmower Man and Nintendo's disastrous Virtual Boy, the technology is gaining steam thanks to the Oculus Rift headset. With simulations ranging from riding a roller coaster to flying a plane, the 3D first-person perspective offered by Oculus Rift is the closest thing we have to total immersion in a virtual environment yet. And while the town has a weird smell that the residents are probably all used to (supposedly, it'll take about six weeks), there are many Simpsons fans who'd love to experience Springfield first hand.
Well, with this hack for the Rift headset, you can.
Dubbed "HomerTheater," this hack developed by Myles Johnston allows users to watch videos — yes, including episodes of The Simpsons — while lounging on the family's couch alongside Homer. In fact, the rest of the Simpson homestead is explorable as if it was a tourist trap, but who could pass up sharing a cold sixer of Duff with Homer and catching up on some Season Four episodes?
Check out the Springfieldian simulation in action below.