Watch Conan Lose His Cool Trying to Solve a 1940s Detective Case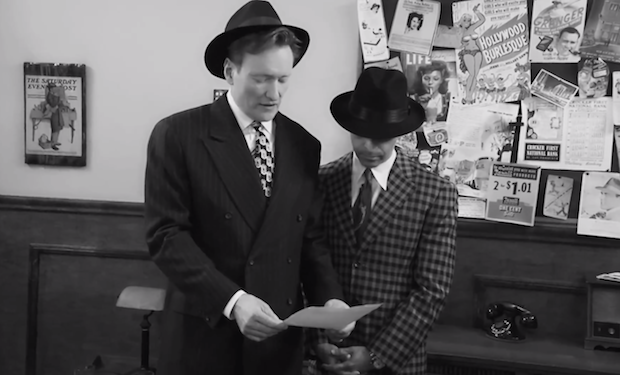 Posted by Mike Schuster on
There are a few things you come to expect from 1940s film noir lead: Cogent and quick-thinking, able to suss out a perp from a series of complex clues and by working over potential accomplices. By those standards, Conan O'Brien wasn't meant for film noir — aside from a passable Edward G. Robinson impression.
The late-night host and his unflappably petulant producer Jordan Schlansky recently participated in a live-action role-playing challenge at Escape Room LA. The task: Solve a convoluted set of clues to escape from a locked 1940s detective's office. Between Conan's lack of focus and Schlansky's irritability, the case lasts far longer than the record time they're aiming for, even with Conan constantly cheating the timer. Their dysfunctional process, however, is a riot.
Watch Conan give in to frustration and consider to end it all in this hilarious clip.