Keegan-Michael Key Goes Nuts As Obama's Anger Translator at the White House Correspondents' Dinner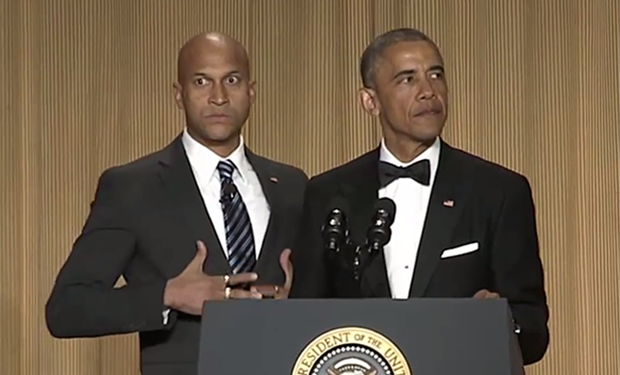 Posted by Mike Schuster on
If there's anyone who can take a joke with goodnatured aplomb, it's congresspeople and the media. The way they sit stone-faced and fuming when a humorist takes digs at their expense, staring with a mixture of animosity and boredom, you can tell the politically affiliated don't take themselves too seriously and are a blast to hang out with.
So headliner Cecily Strong and Key and Peele's Keegan-Michael Key had no problem winning over the audience at the White House Correspondents' Dinner. Strong (with her sharp and poignant remarks about gender inequality) and Key (with his angrier version of Obama's views on climate change and Hillary's campaign) had pundits and lobbyists rolling in the aisles when their illogical political leanings were exposed. And boy, you should see Wolf Blitzer and Andrea Mitchell howl with laughter when their respective cable news networks were skewered! (Well, not so much "howl with laughter" as "glower with sanctimoniousness.")
But in all honesty, Strong and Key were hilarious from beginning to end, despite the sourpusses in the crowd. Check out their highly underrated performances below.