Twitter's 5 Best Responses to Jared Leto's Joker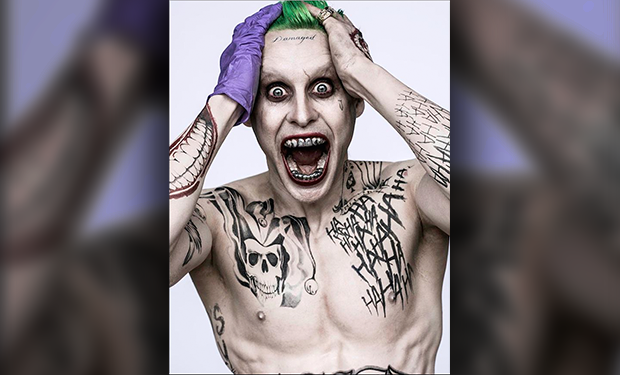 Posted by Mike Schuster on
Comic book fans are notoriously hard to please. Any deviation from the source material — or adaptive visions in their heads — is usually met with apoplectic fury. (Take a look at how comment sections descended into madness when Heath Ledger's casting in The Dark Knight was announced.) Generally, though, folks tend to come around once the film is released and they see for themselves what the filmmakers were going for.
This does not appear to be one of those times.
While the initial casting announcement and first leaked photo were largely met with indifference or open-minded shrugs, the latest photo of Jared Leto as The Joker in DC Comics' upcoming Suicide Squad hasn't received as warm of a welcome. More accurately, not since Nic Cage as Superman has a pre-production photo earned such merciless derision.
The Suicide Squad wishes you a Happy Anniversary Mr. J! #Joker75 #SuicideSquad @WarnerBrosEnt @DCComics pic.twitter.com/LZXz0x947Q

— David Ayer (@DavidAyerMovies) April 25, 2015
Opting for a more Hot Topic-inspired villain with shockingly literal tattoos, the movie's production team has incurred the wrath of every snark-slinger on Twitter. Between the sarcastic comments and brutal Photoshop parodies, there'll presumably be a few board meetings over at Warner Bros. this week.
Here are the best reactions Twitter had to offer:
1. The Home Alone Angle
#NotMyJoker pic.twitter.com/JVMb9eT8Nu

— Krispin Wah (@Krispin_Wah) April 25, 2015
One look at the gaping mouth scream with hands planted on either side of the head, and the comparison to Macaulay Culkin's classic Home Alone pose isn't too big of a stretch. Pasting Leto onto the poster of the 1990 movie, Krispin Wah proves the problems don't begin and end with the tattoos.
---
2. The Tattoo Angle
New cartoon, "The Joker's New Tattoos" – https://t.co/8GG53ffxzv

— Jason Steele (@FilmCow) April 25, 2015
But the tattoos are clearly an issue, as perfectly encapsulated by this animated short courtesy of FilmCow. Not only antithetical to the character we all know, the ink murals are hilarious examples of what an out-of-touch executive would think a hip, edgy villain would get. Seriously, "Damaged"? Come on.
---
3. The '90s X-Treme Angle
This is my gut reaction to the new Joker pic.twitter.com/KpFMt3CYPh

— Mike LeMieux (@Than_Kyou) April 25, 2015
There's a definable "X-treme" quality to the new Joker, as if he was torn from the cover of a Trapper Keeper or a 1992 issue of Nintendo Power. In fact, Mike LeMieux noticed the similarity to a Nintendo Game Boy ad found in early-'90s gaming mags and pasted the "mega-intense grafix" alongside a fitting pose.
---
4. The Classic Joker Angle
While we are tattooing character mission statements on our forehead… #Damaged pic.twitter.com/MzMULxV7vf

— Nick Acosta (@Nick_Acosta) April 25, 2015
What defines The Joker? Well, if you've never cracked a comic book: jokes, laughing, the letter J, and a forehead description by way of emo song titles. And as ridiculous as it seems on a modern-day Joker, the results are even more absurd when applied to a classic Joker — like Nick Acosta's image of a tatted Cesar Romero.
---
5. The Equivalent Batman Angle
First the picture of the new Joker and now the new Bruce Wayne? Amazing: pic.twitter.com/xi997gBwsY

— Jason Anarchy (@DrinkingQuest) April 25, 2015
Seeing as how the Joker is regularly depicted as Batman's polar opposite, what would Bruce Wayne's tats be like? What would his forehead mission statement be? How would he stylize his caricature? And for the love of God, would the font be edgy and extreme?!?! Jason Anarchy took a shot at what an equivalent Batman would look like without his franchise-saving shirt on.