The 10 Funniest Sketches from The Dana Carvey Show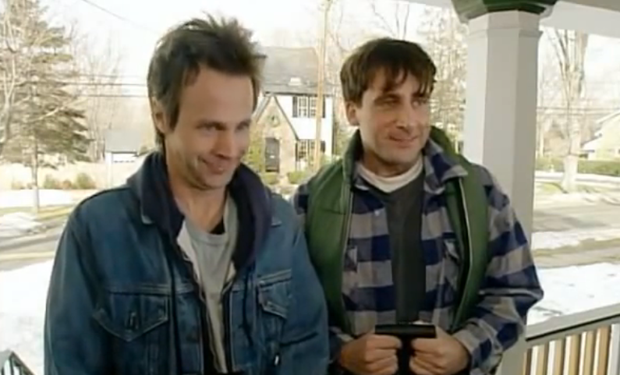 Posted by Mike Schuster on
Comedian Louis CK appeared on The Tonight Show this week and revealed to host Jimmy Fallon that he actively campaigned to not have Fallon as a cast member of the short-lived sketch program The Dana Carvey Show. Find out why here:
Unless you were one of the lucky few who caught it during its initial post-Home Improvement airing on ABC, chances are you weren't aware that Dana Carvey ever had a primetime sketch series. Debuting in the spring of 1996 and canceled soon thereafter, the show was comprised of a powerhouse team of future household names and talent virtually unrivaled in the industry. Other than Carvey and CK, the cast and writers included Stephen Colbert, Steve Carell, Robert Smigel, Dino Stamatopoulos, Jon Glaser, Spike Feresten, Robert Carlock, and Charlie Freakin' Kaufman! Despite this amazing pedigree, the TV-viewing audiences of 1996 weren't ready for the show's sublimely absurd content and surreal characters.
We, however, can look back fondly on The Dana Carvey Show and offer up this list of its 10 best sketches.
10. President Bill Clinton: Mother and Father to the Nation
Unsuspecting families who had just finished watching Tim Allen "Ar! Ar! Ar!" his way through another mishap stayed tuned to the premiere episode of a sketch comedy show starring that funny fellow who does that Church Lady character. What they got, instead, was Carvey as President Clinton cheerfully breastfeeding babies, puppies, and kittens. Tame by today's standards, primetime audiences in 1996 weren't ready for such a horrific sight, and the show was doomed to die on the vine. Looking back, however, it's pretty damn funny.
---
9. World Leaders and Their Baths
Dana Carvey writer and cast member Robert Smigel welcomed us to his private bathtime as a playful and fun-loving King Hussein of Jordan. Basically doing the voice of Triumph the Insult Comic Dog, Smigel expounds on the joy of covering himself with bubbles and pretending he is a bubble creature, attacking the many toy army men and tanks that he brings to the tub. His smile and enthusiasm are nothing but infectious.
---
8. Stupid Pranksters
The Dana Carvey Show was parodying the glut of YouTube pranksters at least a decade before their welcome was way overstayed. As two of the very few recurring characters on the short-lived show, Carvey and Carell play two snickering jokesters who haven't quite got the whole scam concept down. Despite coming out of each situation short a few bucks or down a couple hours of manual labor, they celebrate in their car after making a hasty getaway.
---
7. Germans Who Say Nice Things
The stern Teutonic inflection doesn't easily lend itself to kind words and affirmations. Yet, Carvey and Carell do sound sincere while shrieking pleasantries and dressed in blazers, turtlenecks, and flaxen-haired wigs. Although their tone reminds us of ruthless gestapos and brutal despots, it's heartwarming to know that it was a pleasure babysitting Kevin.
---
6. The Cutting Room Floor Remembers If I Only Had an Ass
In one of The Dana Carvey Show's more epic-length skits (roughly five minutes), Smigel as a lisping Gene Shalit looks at one of the key figures in The Wizard of Oz who was unfortunately left on the cutting room floor. Carvey plays Dennis Blanchard, a man without an ass, who sings his troubles before a stunned and silent Oz group. Topped off with a throwaway gag of impersonated movie critics, this sketch exemplifies the insanity The Dana Carvey Show writers routinely brought to the table.
5. Waiters Who Are Nauseated by Food
A fantastic performance in just two minutes, Colbert and Carell are restaurant servers struggling to power through the specials of the day without emptying the contents of their stomachs in front of the customer. Between Colbert's cleansing breaths and Carell's dry heaves, the chemistry and rhythm the two had was evident even before their killer segments on The Daily Show.
---
4. Skinheads From Maine
The quaint, down-home charm of America's northern New Englanders seems to bring a certain rural hospitality to staunch racism and brutal discrimination. Bald-capped and bedecked in flannel, Carvey and Colbert lounge on the porch in their rocking chairs, whittling and spitballing their future suckerpunch and hate-stick targets — in between casual comments on the weather and early lilac blooms.
---
3. Grandma the Clown
There's nothing funnier (or more watchable) than seeing a young child filled with existential dread, and this deteriorated and garishly painted senior citizen clown supplies it in spades. As a solemn and humbled group of children watch in horror, Grandma the Clown creaks and groans into each slapstick schtick with a grimace on her lips and a word of advice to hang onto your fleeting youth.
---
2. Famous First Ladies as Dogs
A surreal display of comedic talent, Heather Morgan does dead-on impressions of the notable women behind our commander-in-chiefs…had they been dogs. The sketch doesn't overload the concept with extra characters or even dialogue — beyond a few barks and howls. It's just Morgan in various pantsuits and church hats, fully committing to the canine personas of our first ladies, and it's phenomenal.
---
1. Tom Brokaw Anticipates the Death of Gerald Ford
It's one of the greatest sketches ever aired on Saturday Night Live, but it comes directly from an unaired episode of The Dana Carvey Show. Same concept, same jokes. (It even includes a Carvey cast member — Robert Smigel plays the offscreen news director.) Dana plays Tom Brokaw on the verge of a vacation reporting all the possible deaths that former president Gerald Ford could suffer while he's gone. Absolutely absurd and conceptually brilliant, it leaves us to wonder if The Dana Carvey Show would've lasted longer had this sketch aired in its intended program.