The 'Ted 2' Red-Band Trailer Is Extremely Not Safe For Work (Obviously)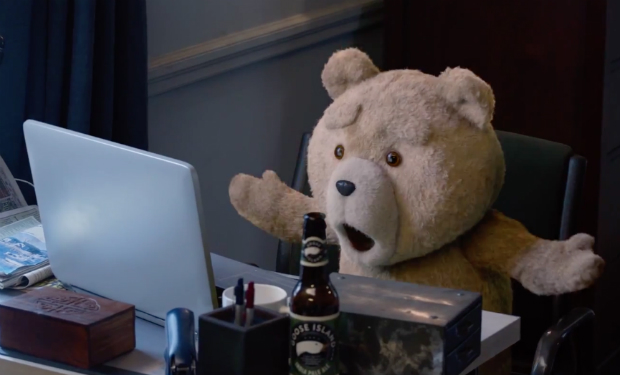 Posted by Nick Romano on
Don't watch this one at work, kiddies! The new Ted 2 trailer has hit the Interwaves, and its band is as red as your cheeks will be when you watch Mark Wahlberg try and get hard in a sperm bank waiting room. Actually, as far as a preview for a Seth MacFarlane movie goes, it's actually as you would expect.
Watch all the NSFW hilarity below.
Of course, there's a ton of pot smoking, phallic humor involving Red Lobster and Tom Brady's allegedly golden member, jokes about slavery and other "shocking" material, all tied neatly together with the question of "what does it mean to be human?" But, frankly, you don't go see Ted 2 to discover what binds us all together. You go for Tom Brady golden member jokes.
As the Ted 2 trailer explains, the sequel to MacFarlane's comedic hit will see the foulmouthed teddy bear trying to have a baby with his girlfriend, Tami-Lynn. Ted doesn't have the juice to do it. In fact, we've been trying to figure out how he's been having sex — or, rather, what he calls sex. So he needs a sperm donation. Cue NSFW sperm bank gags. But Ted ends up having a bigger problem on his hands…
He has to prove in a court of law that he's human, which shouldn't be too big of a problem when your lawyer is 26 years old, smokes a ton of pot for her "migraines" and is Amanda Seyfried.
If this Ted 2 trailer is any indication, there's going to be a lot more inappropriate shenanigans. And we'd expect nothing less from the man who had Neil Patrick Harris defecate in a bowler hat in A Million Ways to Die in the West.