Is New Star Wars Robot BB-8 the Next Wilson the Volleyball?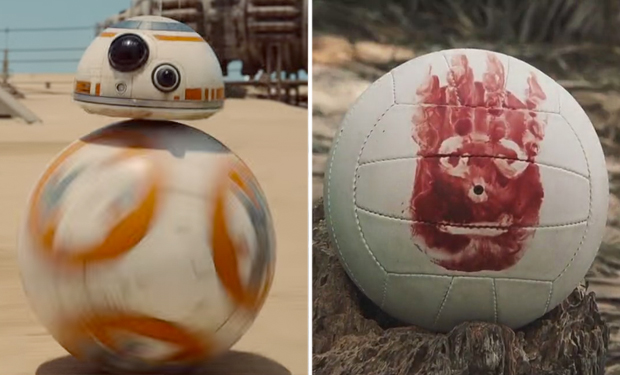 Posted by Nick Nadel on
Yesterday the Internet collectively fell in love with BB-8, the new robot that was unveiled in both the Star Wars: The Force Awakens teaser and during a live presentation at Star Wars Celebration.
Aww, ain't he adorable? He's easily the cutest circle-based thing since Olaf from Frozen. And everyone loves Olaf, right? We're not sick of him yet, right??
Cute as he is, we can't help but notice that BB-8 looks suspiciously like another round fellow who captured the culture's imagination. No, not Louie Anderson. We're of course talking about Wilson, the volleyball who was Tom Hanks' only friend in Castaway. Let's see how Wilson and America's newest ball-shaped sensation stack up.
BB-8 Vs. Wilson the Volleyball
Origin
BB-8: Created by Neal Scanlan and the team at Pinewood Studios as a working robot.
Wilson: Is a volleyball.
Name
BB-8: While his function in the Star Wars universe has yet to be revealed, we're going to assume he's an office protocol droid and that the "BB" stands for "bulletin board."
Wilson: Hanks' pal gets his name from the Wilson sporting goods concern founded by Thomas E. Wilson in 1913.
Personality
BB-8: Wall-E crossed with a roomba.
Wilson: Whatever Tom Hanks imposes on him at any given moment in order to maintain his sanity.
Appearance
BB-8: The answer to the question, "What if you combined R2-D2's head with a soccer ball?"
Wilson: The face that Hanks draws on Wilson in his own blood somewhat resembles Bart Simpson.
Purpose
Wilson: Provides Tom Hanks with companionship while he's stranded on a deserted island.
BB-8: Annoying C-3PO (we assume).
Voice
BB-8: Makes cute-sy beeps and squeaks.
Wilson: Doesn't speak. The only sound you hear in Castaway is the sound of one man's descent into madness.
Likeabiliity
BB-8: Adorable now, but could become the next Jar Jar six months from now when he's plastered on Taco Bell cups and popping up on The Tonight Show to lip-sync "Funky Cold Medina."
Wilson: 15 years after his big screen debut, Wilson remains an enigmatic pop culture figure and popular infant Halloween costume.