Sesame Street's Game of Thrones Spoof Makes Beheadings and Regicide Adorable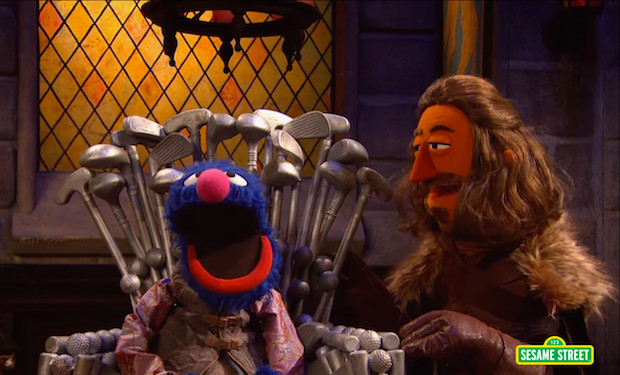 Posted by Mike Schuster on
Poking fun at adult fare like Sons of Anarchy, Mad Men, and The Sopranos, Sesame Street doesn't forget about the parents in the room — even if all the references fly over the heads of the youngins. So it must've been a real treat for the harried moms and dads to get a little inside shoutout from the Sesame Workshop when it released their Game of Thrones parody, Game of Chairs.
Joining the hand puppet versions of Ned Stark, Joffrey Baratheon, and Tyrion Lannister, Grover leads the warring Westeros clans in a friendly game of musical chairs. But as if to drive the grown-up source material home, the Muppets spout spoiler-filled asides to one another. (Joffrey is accused of "choking"; Rob Stark declares he needs to get to a wedding, while Melisandre pops up to hiss, "The monster is blue and full of errors!")
Take a gander at this clip and remind yourself that Sesame Street isn't always targeted just to the kiddies.