Rush Hour 4: Face/Off 2 Combines Two Sequels For the Most Confusing Movie Ever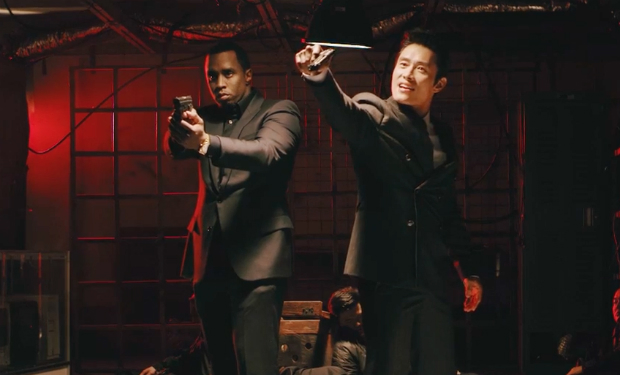 Posted by Nick Romano on
It's gonna be a long while before we see Rush Hour 4. And by a long while, we mean probably never. The same goes for Face/Off 2. To satisfy any cravings you might have to see either of these crazy action films on the big screen, Funny or Die has made them both for us. The only thing is that they pulled a Face/Off of their own: they made Rush Hour 4 into Face/Off 2 and Face/Off 2 into Rush Hour 4, and cast Sean "Diddy" Combs and Byung-Hun Lee. It's Rush Hour 4: Face/Off 2, and it's incredibly confusing.
Don't be surprised if Hollywood decides to eventually remake that Nic Cage/John Travolta movie with guys like, say, Miles Teller and Michael B. Jordan. (It's like those two have written in their contracts that they must star in a movie together every other year.) But until that happens, we have this.
Combs takes the role of Detective James Carter, made famous by Chris Tucker, while Lee takes over for Jackie Chan as Chief Inspector Lee. Naturally, the ambassador's daughter has been kidnapped and the ransomer is asking for $50 million, aka "Beyonce kidnapping money." That means the police force needs a quirky buddy-cop duo to find the girl and bring the culpable party to justice. But wait, wait, wait! First, they need to switch their faces. Why? Because their anonymity is compromised, or it's, like, the ultimate symbol of East meets West, or something that we don't quite understand.
"Sean Combs is Detective Carter, who's actually Detective Lee, who's played by Byung-Hun Lee, who's actually Detective Carter." With us so far?
I suppose this isn't the most confusing sequel/reboot/cinematic-universe-mashup we've ever seen. Imagine what it's like for a non-Marvel fan sitting through something like Avengers: Age of Ultron. We let that one slide because it's cool and comic book-y and badass. When you look at it that way, Rush Hour 4: Face/Off 2 makes a heck of a lot more sense, doesn't it?