Rihanna Made It Rain on Jimmy Kimmel for Epic April Fools' Day Prank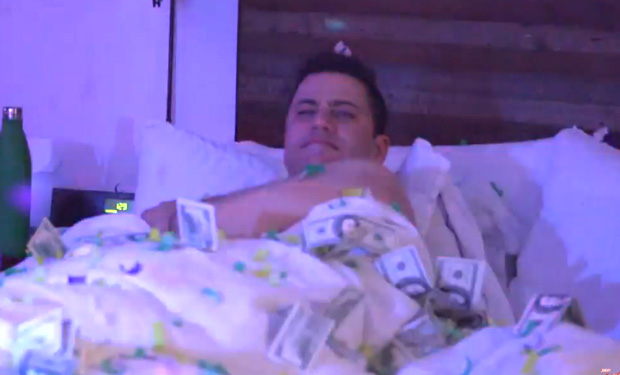 Posted by Melissa Locker on
Rihanna turned the tables on noted prankster Jimmy Kimmel as part of an amazing April Fool's gag.
The comedian was sound asleep in his bed when his wife Molly McNearney helped Rihanna sneak into his room. The pop star proceeded to wake him up by making it rain on the still-sleeping Kimmel. He couldn't stay asleep though when Rihanna, her backup dancers, and DJ got turnt up complete with confetti, flashing lights, giant speakers, jumping on the bed, and pillow-throwing, transforming his bedroom into a tiny club filled to capacity for a personal late night performance of her new single "B*tch Better Have My Money."
Kimmel never knew what hit him—and didn't even get to take out his mouth guard until the concert was over.
Want the latest news from IFC? Like us on Facebook and follow us on Twitter@IFC