The 7 Most Important Recurring Characters in Kevin Smith Movies (Not Named Jay or Silent Bob)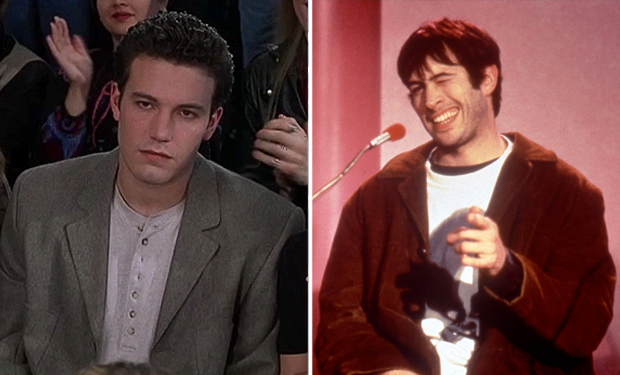 Posted by IFC on
By TM Rider 
Kevin Smith's movie world is a vast one, so large that it's considered a universe by fans of the successful writer and director.
The View Askewniverse — View Askew being the name of Smith's production company — is the nickname given to any Kevin Smith film from 1994 (Clerks) to 2006 (Clerks II). (The only film not included in the universe is the Bennifer bomb Jersey Girl from 2004.) Inspired by the John Hughes films of the 1980s, Smith created a world of characters and storylines that weaved throughout his films. Smith used many of his real life friends in these roles.
Of course, Jay and Silent Bob play major roles in all the films, and characters like Randal and Dante from Clerks or Holden from Chasing Amy turn up in multiple films. But what about those secondary characters that appear and reappear throughout the films? The Julie Dwyers, Shannon Hamiltons and Walt Flanagans that litter the universe and keep the View Askew machine moving from film to film.
Here are the most prevalent characters in the View Askewniverse, ranked from least to most important, and how the characters and stories connect to one another.
Honorable Mention: Jaws (The Movie)
T.S. Quint: I was going to propose to her.
Brodie: Where?
T.S. Quint: The Universal Tour.
Brodie: You're kidding. What part?
T.S. Quint: When Jaws popped out of the water.
Brodie: That's the most romantic thing I've ever heard.
T.S. Quint: Too bad I'm not trying to marry you.
— Mallrats
The numerous Jaws references probably go unnoticed by the casual viewer of Smith's movies. Many of Smith's films, especially the early flicks, make reference, either visually or verbally, to the Jaws franchise. Smith once listed Jaws as one of his top five favorite movies of all time.
The more obvious references are TS Quint's wish to propose to his girlfriend Brandy on the Jaws ride and the fact that Quint, and his best friend Brodie Bruce, are an homage to Quint and Brody, the characters that Robert Shaw and Roy Scheider played in Jaws. In Clerks, Randall hums the iconic Jaws theme music and drops a reference to needing a "bigger boat" while playing killer shark with his chips and salsa. In Chasing Amy, the scene where Holden, Banky and Alyssa down beers in a bar and recall injuries sustained during the performance of oral sex on women is a tribute to the moment in Jaws where the men sit around the table and compare the injuries sustained in their travels around the world.
---
7. Willam Black (Scott Mosier)
Willam Black is known for his limited intelligence, looking like hell, and his fondness for being "snowballed" (Learn the meaning of the term in the NSFW clip below.) Black is played by longtime View Askew film editor and producer Scott Mosier. He reprises the role in Jay and Silent Bob Strike Back and in the Clerks cartoon. 
---
6. Brodie Bruce (Jason Lee)
Brodie is an unemployed, comic book-obsessed nerd who lives in his parents' basement. He's first introduced to the Askewniverse in Mallrats as being best friends with T.S. and is a cousin of Randal Graves by virtue of sharing a cousin, the unseen "Walt" who we'll get to later, and a never seen but occasionally referenced "crazy grandmother." Brodie makes a cameo appearance in Jay and Silent Bob Strike Back in which it's revealed he now owns a comic book store called Brodie's Secret Stash.  (A play on Jay and Silent Bob's Secret Stash, the comic book store owned by Kevin Smith that is featured on AMC's Comic Book Men.) This was after his stint as host of The Tonight Show, as revealed at the end of Mallrats.
---
5. Shannon Hamilton (Ben Affleck)
Shannon Hamilton plays a pivotal role in Mallrats but his name, and likeness, is referenced throughout several films. Shannon's influence is a woven tapestry of asshole-ry.
Hamilton is the manager of Fashionable Male and the arch enemy of Brodie Bruce. Shannon dates Brodie's ex-girlfriend Rene Mosier. In Mallrats, Tricia Jones reveals that she had sex with Hamilton as research for her book Borgasm. She even taped their sexual encounter. At the end of the film, after Hamilton is arrested for having sex with a minor, it is explained that "Shannon made a lot of friends at the Rahway State Correctional Facility."
Hamilton is mentioned in Chasing Amy, when Alyssa Jones explains that she had sex with him in college, he taped it without her consent, and showed it around campus. In a non-movie mention, Hamilton's face is plastered on a milk carton in Clerks: The Comic Book to show he's since gone missing after his release from prison. Rumor has it be may turn up as the villain in Kevin Smith's proposed Mallrats sequel, assuming he's not busy being Batman.
4. Rick Derris (Ernest O'Donnell)
Rick Derris is the local pervert and sexual deviant who's had sex with just about every woman in the Askewniverse.
In Clerks, Derris reveals to Dante that he had sex with Dante's ex-girlfriend Caitlin Bree numerous times during their five-year relationship. In Mallrats, Gwen, T.S. and Brodie Bruce recall a high school costume party in which Derris and Turner had sex on a pool table dressed as Burt Reynolds and Jackie Gleason from Smokey and the Bandit. In Chasing Amy, it's revealed that Derris and his friend Cohee London have a three-way with Tricia Jones' older sister Alyssa during high school. This was the reason she was given the colorful nickname "finger cuffs."
---
3. The Hicks Cousins (Brian O'Halloran)
At first glance, it probably seemed to viewers as though Brian O'Halloran was just playing different roles in all the Smith films, when in fact he was portraying the many cousins of Dante Hicks. That's when he wasn't actually playing Dante in Clerks and Clerks II.
In Mallrats, O'Halloran is Gil Hicks, the dating show contestant who's exposed as being "sort of" homophobic by Brodie. In Chasing Amy, O'Halloran reappears as high-ranking executive Jim Hicks, the man interested in turning the Bluntman and Chronic comic book into a cartoon series. In Dogma, he's Grant Hicks, the newsman who meets an unfortunate end at the hands of angry arch angels.
---
2. Julie Dwyer
Never has a dead woman, the same dead woman, played such a huge role in so many different films.
Julie Dwyer was first mentioned in Clerks as the old high school friend of Dante and Randal who tragically died doing laps in a swimming pool at a YMCA. Dante and Randal both ditch work to attend the funeral, which Randal dubbed "the social event of the season," and leave quickly after Randal knocks over the casket (a scene that viewers never witness except for the two guys sprinting out the front door of the funeral parlor).
In Mallrats — which takes place the day before Clerks — Julie Dwyer is supposed to be the contestant on Truth Or Date. She's told that "the camera adds ten pounds" which prompts her to swim all those laps and eventually die. Her death forces Brandi to take her place on Truth Or Date, a show produced by her father, which leads to her breakup with TS.
Julie is again mentioned in Chasing Amy as a friend of Alyssa Jones and in Clerks II when Randal mentions going to her funeral.
---
1. Walt Flanagan
Walt Flanagan is the only member of Smith's universe that's both real and fake. Walt Flanagan, a childhood friend of Kevin's, does exist and has played several roles in his films (and is a cast member on AMC's Comic Book Men) but there's also the fictional Flanagan (often referred to as Walter) who pops up in conversation between characters in many of the films.
Walter, a shared cousin of Randal and Brodie, is probably most remember for dying of a broken neck while trying to give himself oral pleasure. In the beginning of Mallrats, Brodie tells the story of how Walter kept getting cats stuck in his ass in an attempt to scare out a gerbil he'd previously lost in his butt. One of the most obscure references to Walt is in Mallrats during the chase scene with Jay and Silent Bob and mall security guard LaFours. Jay comments to Silent Bob about LaFours that "the bastard is faster than Walt Flanagan's dog."
Walt's most memorable on-screen role is as Walt Grover, a stooge to comics nerd Steve-Dave Pulasti. Grover even gets his own catchphrase, the often repeated by hardcore fans "Tell 'em Steve-Dave!," that he yells during an altercation with Brodie in Mallrats. And of course, Tell 'Em Steve-Dave is the name of the SModcast network podcast that the real Walt Flanagan cohosts with Bryan Johnson and Brian Quinn.