James Corden's 'Basic Instinct' Remake Has Nothing To Hide… Nothing!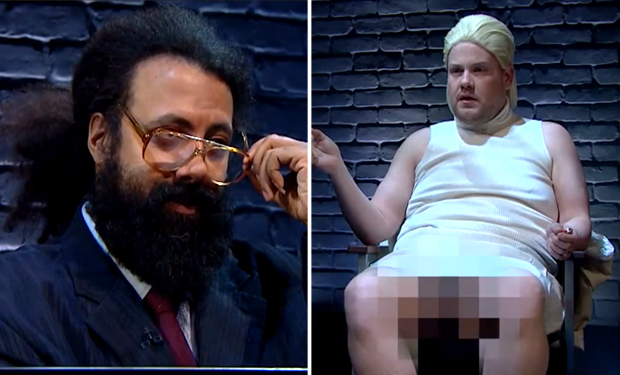 Posted by Nick Romano on
Seriously, James Corden has nothing to hide! The newly minted host of The Late Late Show has been killing it with his carpool karaoke jams with Mariah Carey and Jennifer Hudson, and his seductive black-and-white underwear ad with David Beckham, but he really ups the ante with his Basic Instinct remake.
Watch the video below. "Look at it. Take it in."
Michael Douglas joined Simon Cowell as Corden's latest guests, and there seemed to be no reason not to recreate one of the most famous scenes of Basic Instinct and of movie history in general. Basic Instinct starred Sharon Stone as a captivating crime novelist who becomes linked to the murder of a rock star. Douglas played the detective investigating the crime, and he teams up with Corden and Reggie Watts to remake the moment we all won't ever forget.