Hulk Answer Good! Watch the Avengers Play Family Feud With Jimmy Kimmel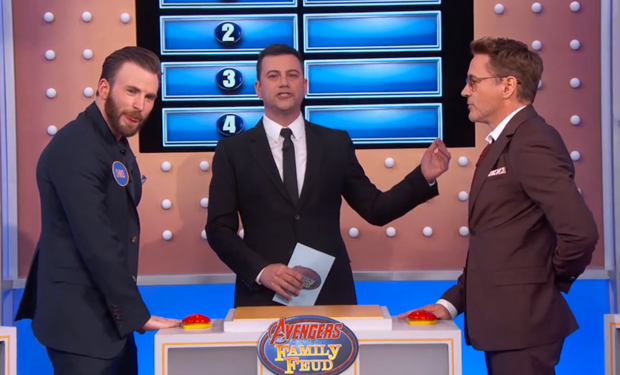 Posted by Mike Schuster on
If only Marvel's Civil War was as lighthearted as this.
Tempting a shootout between plasma beams and explosive arrows, late night host Jimmy Kimmel led a Family Feud face-off between The Avengers: Age of Ultron cast, who were divided along Superhero Registration lines. Playing for the pro-legislation side, Chris Hemsworth, Scarlett Johansson, and Robert Downey, Jr. held their own against super-freedom fighters Chris Evans, Mark Ruffalo, and Jeremy Renner.
In addition to a clear problem with name tag adhesive, tensions began to rise as players paid no mind to official game rules by conferring with one another on every answer and extending way past the time limit. But in the interest of keeping things "civil," Kimmel wisely lets the indiscretions slide.
Find out which side wins the appropriate grand prize below.