The 7 Funniest Stoner Scenes in Movie History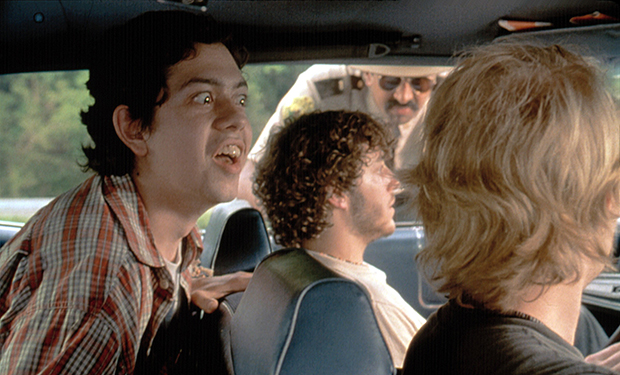 Posted by IFC on
By Jeff Finkle
For those of you reading this in Colorado or Oregon you might want to grab your perfectly rolled, legal joint and a keep a bag of Cool Ranch Doritos handy, but you don't have to be high to laugh at these classic stoner scenes. If you are wondering why Cheech and Chong are not represented in this list it is only because they are the Adam & Eve of stoner comedy and have produced so many hilarious scenes over the years; they are a genre onto themselves. This list is inspired by the funniest scenes involving stoners and not necessarily the funniest stoner characters, which sounds like something a stoner in a movie would say before losing his train of thought.
7. True Romance, Floyd
In a movie where Christian Slater's Clarence gets advice on a coke deal from Elvis' ghost and Bronson Pinchot sneezes out a bag of cocaine after being pulled over by highway patrol, it is Pitt's Floyd who steals the movie with the little dialogue he is given. ("Don't condescend me… I'll kill you, man.") As James Gandolfini's hit man and then the Italian mob knock on his door looking to kill anyone who knows the whereabouts of his roommate Dick Ritchie, Clarence and his wife, and former prostitute for a day, Alabama, Brad Pitt's Floyd remains perfectly chill on his couch enjoying the movie Freejack and his honey bear bong. How could anyone condescend to this lovable stoner?

---
6. Friday, Smokey
This scene from Friday is number two on this list for a reason but Chris Tucker's performance as Smokey, the ultimate South Central stoner, is as memorable a part of '90s pop culture as flannel shirts, bands that sounded like Pearl Jam and well, movies about life in the hood. Except the brilliance of Friday is that it's not about surviving a gang, it's about getting through a typical Friday and avoiding the neighborhood bully. John Witherspoon, as Mr. Jones, the father of Ice Cube's Craig, does something in this scene that is harder than not laughing while watching the movie Friday — he steals it from Chris Tucker.

---
5. Fast Times at Ridgemont High, "He's gonna kill us!"
Sean Penn may have spent the past 30 years searching for serious, gut wrenchingly emotional roles but any fan of '80s teen comedies, especially anyone who grew up in the '80s will always remember him as Spicoli from Fast Times. From "You dick?" to "No Shirts, No Shoes, No Dice.." to "Alright Hamilton!," just about everything that Sean Penn says as Jeff Spicoli is a quote fans of this teen comedy classic will remember. Check out this hilarious scene as Spicoli enjoys a leisurely drive with Jefferson's little brother and utters numerous legendary comedy lines including, "My old man is a Television repairman, he's got the ultimate set of tools. I can fix it."

---
4. Half Baked, Thurgood Wears a Wire
This homage to great stoner scenes wouldn't be complete without a Half-Baked scene. If there was a Mt. Rushmore of stoner movies, Half-Baked would be Abraham Lincoln, except with pieces of Funyons stuck in its beard. You know you have an all-star cast for a stoner movie when Dave Chapelle is the straight man out of the group, and you might find yourself shouting out Abracadabra at random times of the day after watching these stoner buddies at their highest. Just make sure you've stocked up on the essential graham crackers, grape jelly, Capt. Crunch and condoms before watching the fully-baked boys try and pull a sting operation on drug kingpin Samson.

3. Ted, Name Guessing Scene
One can only hope that Seth Macfarlane's pitch to greenlight Ted went something like this: A stoner teddy bear with a wicked New England accent is best friends with Mark Wahlberg and they get into enough raunchy situations to make American Pie look like The Sound of Music. It is debatable if there is anything in Ted as funny as Giovanni Ribisi doing his Donnie Dance or a coke-fueled cameo by Sam Jones, aka Flash (Ahaaaaah, he saved every one of us) Gordon. But, this classic scene establishes Ted and Jon's friendship and it is definitely the funniest Mark Wahlberg has been acting as if he was high since he stared off into the abyss during the drug deal gone bad in Boogie Nights.

---
2. Super Troopers, Opening Scene
Meow, if the opening of a movie is crucial for setting the tone of the film and establishing its protagonists, then the opening to Super Troopers should be taught in a Comedy 101 college film course. Meow, if there's one thing Howard Hawks, Blake Edwards and Woody Allen have in common, it's that none of them were ever part of the comedy troupe Broken Lizard, who wrote and starred in Super Troopers. The troopers get themselves into a series of cheeky shenanigans. (Did somebody say shenanigans?) as they attempt to foil a meowijuana drug ring and the local cops in the fictional town of Spurberry, Vermont.
Grab your liter of cola meow and enjoy every moment of the opening to Super Troopers as they mess with a couple of college kids getting stoned on a leisurely drive to Canada.

---
1. The Big Lebowski, "She kidnapped herself"
In the parlance of our times, labeling The Dude as simply a stoner is like saying Gandhi was just an Indian guy who looked amazing in a robe. Sure, he's a stoner, but he's also a pacifist, an avid White Russian Enthusiast, a huge Creedence fan, a lover of all things bowling, the author of The Port Huron Statement (the original Port Huron Statement) and of course someone who has perfected the art of dabbling in "a little of this and a little of that." This quintessential "Dude" scene builds to a crescendo of hilarity as Jeff Bridges, aka, The Dude, feverishly tries to explain to Jeffrey Lebowski and his trusted confidant Brandt (played with subtle awesomeness by the late Philip Seymour Hoffman) that "new sh*t has come to light" in Bunny's kidnapping.