Here Are Three Ex-Cops Getting Super-Duper High For 4/20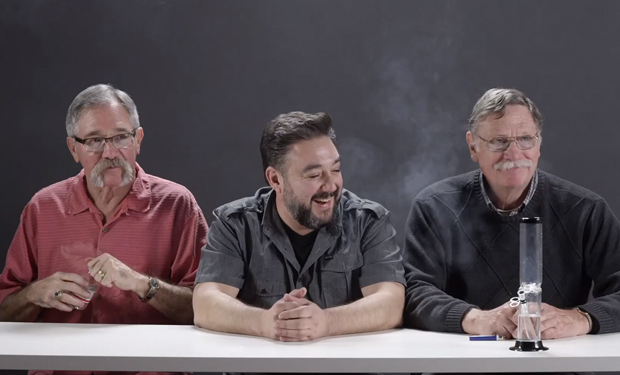 Posted by Nick Romano on
How do you know it's 4/20? Because there's a video of ex-cops smoking a shit load of weed in celebration of pot smokers' favorite holiday. The folks behind Cut Video took three gents, who are all pushing towards their late 60s, early 70s and basically got them super-duper, ripped-off-their-asses high. Remember what happened when those grannies inhaled the ganja? Replace Cards Against Humanity with Who Am I?, and you've got a similar situation.
Watch what happened!
Rene, David and Robert have all smoked pot before, though our buddy Robert here did it while on a waterbed "with a very agreeable woman" and listening to "Rhapsody in Blue." This is also the same guy who says he hasn't had sex in quite some time that he can't remember which one ties up which. This time around, though, the Three Musketeers have a grand ol' time playing Who Am I?, eating snacks and attempting to complete standard hand-eye coordination tests. And we're having just as much fun watching them do it.
However, there's no beating the hilarity that were those three seemingly innocent grandmothers getting totally baked. Cut Video produced that, as well. If you haven't seen it, check it out below.