Every Wes Anderson Movie Ranked in Order of Twee-ness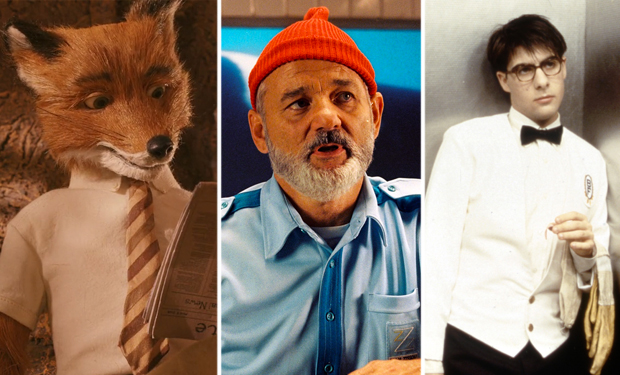 Posted by Mike Schuster on
twee /twē/ adj.
1. Excessively or affectedly quaint, pretty, or sentimental.
2. When the scout leader character arranges his compass collection on a desk and then enters a pup tent to listen to a Herman's Hermits B-side on a Peanuts record player.
Critically acclaimed director Wes Anderson has amassed a loyal following with his collection of whimsical movies filled with idiosyncratic characters. Distinct in their colorful art direction, playful camerawork, and childlike sensibilities, Wes Anderson movies are a polarizing lot. Some appreciate the offbeat sentimentality. Others would prefer to smash the life-sized diorama with a monogrammed Underwood typewriter. But wherever you fall on that spectrum, most movie lovers will have at least one Wes Anderson movie to appreciate, maybe even enjoy.
But in order to safely recommend a Wes Anderson movie, one must rank them on their levels of cloying sentimentality and have the viewers decide how much they can stomach. Here's every feature-length Wes Anderson movie ranked by twee-ness.
8. The Darjeeling Limited
Although rife with quirky bickering stemming from childhood squabbles, the sibling rivalry and familial themes of The Darjeeling Limited are the least twee among Wes Anderson's filmography. Maybe it's because the main characters are only halfway emotionally stunted, or perhaps it's the fact that nothing much really happens. Whatever the reasons, cinematic diabetics should be fine.
---
7. Rushmore
Dead mother? Check. Blackmail letter in crayon? Check. Serpico as a school play? Check. But there's a certain feeling to Rushmore that's antithetical to mawkishness and sets it apart from Wes' other movies: anger. Reflected in its muted color scheme and how Bill Murray's foil is more of a sad sack than a petulant man-child, this movie has a darker edge that many fans miss from Anderson's later work.
---
6. Bottle Rocket
In his first feature-length picture, Wes Anderson incorporates his own trademark themes that went on to grow exponentially in his future work: arrested adulthood, callow exuberance, Salinger-esque relationships, and puppy love from a hopeless romantic. And while Bottle Rocket is certainly less twee than his more recent work, the twenty-something's adolescent approach to wooing a motel chambermaid could invoke a sickening sugar high in some viewers.
---
5. The Life Aquatic with Steve Zissou
Chasing Claymation ocean life in Jacques Cousteau getups, the cast of The Life Aquatic is clearly living out Wes' childhood fantasy. Their exploration vessel is detailed as a real-life clubhouse cross-section, their diving helmets come equipped with a transistor FM radio, and the sole female crew member is perpetually topless. Add a rocky relationship between a son and an estranged father, and it's no surprise how Anderson could make a pirate attack seem cutesy.
---
4. The Royal Tenenbaums
Complete with POV character introductions, dry Alec Baldwin narration, and identifying dollhouse wardrobes, this is where Wes Anderson really began upping the stakes on the twee-ometer. Three lapsed child prodigies with steamer trunks of emotional baggage reunite under one roof to care for their supposedly ailing father. Children camp out in a museum, grown-ups cuddle in a tent listening to records, a puppy is run over: This is orange alert-level twee.
---
3. The Grand Budapest Hotel
A hypercolor madcap romp, The Grand Budapest Hotel is like The Great Muppet Caper broke out on a Marx Brothers set. Featuring characters with names like Madame Céline Villeneuve Desgoffe und Taxis and Inspector Henckels, as well as a flabbergasted bellhop and a snowsled chase scene, the threat of overdosing from whimsy is a clear and present danger when watching this movie. If it wasn't for the sudden bursts of violence, we'd give this one the top spot.
---
2. Fantastic Mr. Fox
Before the trailer hit the web, moviegoers wondered how Anderson could put his signature touch on a stop-motion adaptation of a children's story. But upon seeing the trailer, everyone realized, "Oh, it's basically a woodland Wes Anderson movie." With a movie palette that allows childlike sensibilities to soar, Fantastic Mr. Fox is exactly the sort of handmade film that a Wes Anderson character would act out from inside their pup tent.
---
1. Moonrise Kingdom
The cinematic equivalent of doing a kegstand with high fructose corn syrup, this is Wes Anderson at his most Wes Anderson-iest. An orphaned Cub Scout and a wise-beyond-her-years local girl give in to their prepubescent hormones, run away from home, and dance in their underwear to a lakeside record player. Practically ripped from the diary of a lovestruck adolescent and dragged through the shelves of a vintage thrift shop, this movie makes Garden State look like Chinatown. In other words, this is a make-it-or-break-it litmus test for the staunchest of Wes Anderson's devotees.