Did You Spot the Star Wars Easter Egg in the Marvel Films?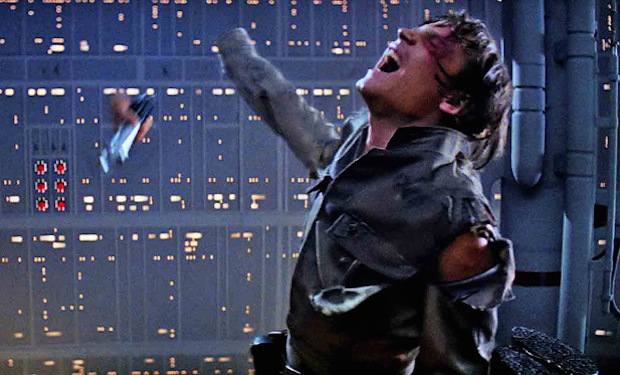 Posted by Mike Schuster on
Be they "tesseracts" or superhero civil wars, the Marvel films each contain elements that connect them in a collective universe. Not only does this allow the various plots to build and culminate into a character-rich battle royale, it also creates a consistency in the movie experience across various superhero franchises. But while the glowing cubes and Thanos cameos are highlighted for fans, one unifying element may not have been so obvious — probably because it was inspired by another popular franchise.
In an interview with Cinema Blend, Marvel Studios President Kevin Feige revealed a detail that's been common in every single Marvel "Phase Two" film. (That includes Iron Man 3, Thor: The Dark World, Captain America: The Winter Soldier, Guardians of the Galaxy, and the upcoming Avengers: Age of Ultron and Ant-Man.) And it comes from a galaxy far, far away.
As a tribute to his obsession with Star Wars, the Marvel chief explained that in each film a character has an arm cut off at some point. Feige said:
"So is this a spoiler for Ant-Man… not really. I'm obsessed with Star Wars. Who's not? I'm 40 years old. I'm in the movie business. I went to USC. So I'm obsessed with Star Wars — and it didn't start out as intentional, but it became intentional, including that beat that you referenced. It sort of happens in every Star Wars movie, but I was sort of looking at it, 'Okay, is Phase Two our Empire Strikes Back?' Not really, but tonally things are a little different. Somebody gets their arm cut off in every Phase Two movie. Every single one."
Something to keep an eye out for when we head to the theaters for the Age of Ultron and Ant-Man releases. Check out a supercut of the "Luke injuries" from the Marvel movies below: