Jimmy Kimmel Denies Being Behind Dennis Quaid Meltdown Video [UPDATE: Funny or Die Responsible]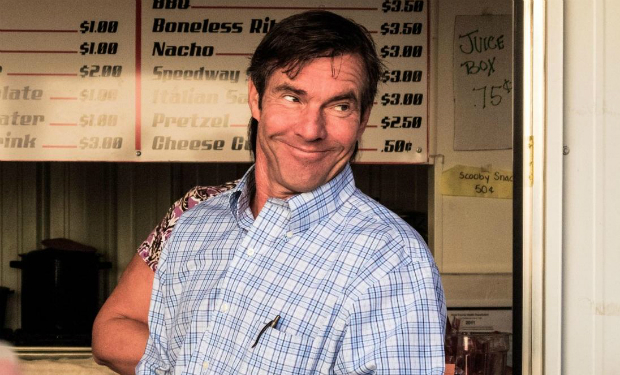 Posted by Nick Romano on
Yesterday was not such a great day for Innerspace star Dennis Quaid. A video showing the actor having a serious meltdown, with NSFW F- and D-bombs galore, went viral.
But is it real? A few people online started attributing this over-the-top breakdown to late-night prankster Jimmy Kimmel. The man has fooled us before with fake videos, but the host of Jimmy Kimmel Live went on his talk show to clear the air. This crazy is all Quaid's, apparently.
After showing the clip, Kimmel told the audience:
 There are two dozen articles online, thousands of comments, suggesting that this a prank video and I'm responsible for it. I have to say, you know, it's disappointing 'cause you play 50 pranks and all of a sudden people don't trust you anymore.
Kimmel can blame Reddit. One commenter on the site claimed to work for Jimmy Kimmel Live and could "confirm" the video to be one of the host's pranks. Another chimed in to echo these sentiments, but if it were Kimmel's handiwork, he would have come clean by now to take a victory lap. And that wasn't the case.
Quaid's flip-out is so epic, and so reminiscent of Christian Bale's glorious freakout while on the set of Terminator Salvation. It seemed too good to be true, but so far, no one has come forward to claim it's not legit. With such quotable lines as "I can't even get a line out until Dopey the D–k starts whispering in your ear!" we predict this viral sensation is only getting started. If it is real, we await the inevitable onslaught of parody videos. (Kimmel already dubbed Quaid's rant over Daffy Duck footage.)
What do you think? Did Quaid really have a meltdown or is Jimmy just stretching out his latest celebrity prank?
UPDATE: Funny or Die tweeted the following reveal…
After days of speculation, the truth about Dennis Quaid's on-set meltdown is finally revealed: http://t.co/yR69EHNbpR pic.twitter.com/wefDTTnHwv

— Funny Or Die (@funnyordie) April 15, 2015
Yep, the meltdown was merely a teaser for a viral video. That's the world we live in, folks. Check out the Funny or Die meltdown video below.