Sesame Street Assembles a Hilarious Veggie-Themed Avengers Parody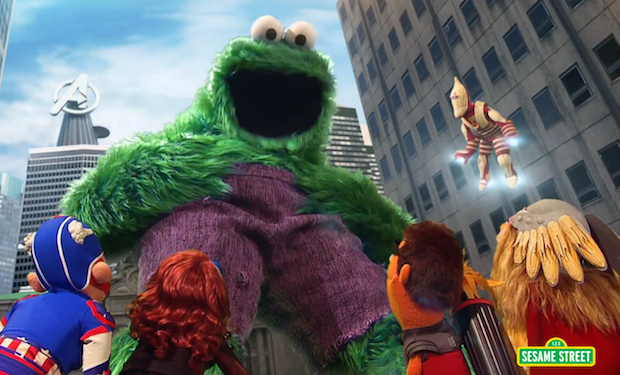 Posted by Mike Schuster on
A few weeks ago, Sesame Street gave a nod to the adults in the room with a fantastic Game of Thrones parody that was packed with sight gags and references that are (hopefully) several feet over the kids' heads. And this week, the long-running children's show aimed a little closer to its demographic with a veggie-themed Avengers parody called, fittingly, Aveggies.
Featuring a lot more CGI than we remember from Sesame Street, the segment follows the Aveggies (Dr. Brownie, Onion Man, Captain Americauliflower, Black Bean Widow, Mighty Corn, and Zuchin-eye) as they suffer a fierce creaming by the dastardly dessert-obsessed villain Bon Bon. As one Aveggie fails after another — with some hilarious whining from Cap and Corn — fate lies in the hands of the Cookie Hulk whose secret, as luck would have it, is he's "always hungry."
Get geared up for Avengers: Age of Ultron (while learning to eat healthier!) with this amusing short.