Shrunk History: The 5 Greatest Shrinking Movies of All Time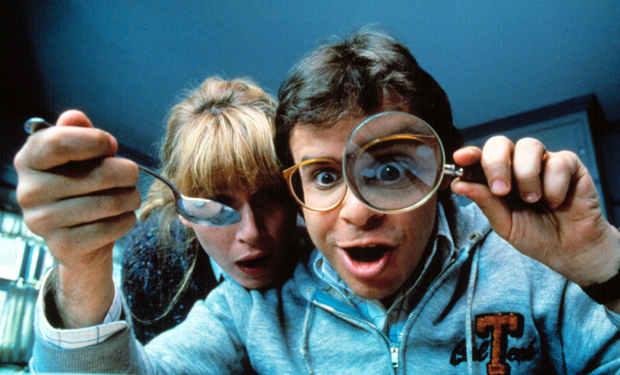 Posted by Mike Schuster on
Like a bug on a windshield, the full-length trailer for Ant-Man smacked itself on the web this week. Paul Rudd, in his first comic book leading role, plays small-time thief Steve Lang who gets mixed up with a substance that allows him to shrink in size but increase in strength. (Check out IFC's version of what a '90s Ant-Man would have looked like!)
Although it's the first time a live-action Ant-Man appeared on the big screen, the Marvel hero goes all the way back to a 1962 issue of Tales to Astonish. And in that time, there's been some pretty incredible shrinking people committed to celluloid, leaving behind some really once-big shoes to fill for the ol' Ant-Man.
So in tribute to his forebears, here are Ant-Man's 5 best miniaturized ancestors in film.
5. Honey, I Shrunk the Kids

Walt Disney Pictures
An unabashedly fun Rick Moranis plays patriarch Wayne Szalinski who, indeed, shrinks his kids (as well as the neighbors) in a family movie that's mercifully light on the saccharine. The practical effects are a treat to watch, with a gigantic yard filled with gargantuan wildlife that separates the quarter-inch chitlins from the front door. You'll be surprised how emotionally attached you can get to an ant.
---
4. TIE: Phantom Planet & Attack of the Puppet People

American International Pictures
A B-movie plot device like a shrink ray can't go without acknowledging a few B-movies, and these two are delightfully ridiculous. Featured in a Season Nine episode of Mystery Science Theater 3000, the 1961 movie Phantom Planet considers, as Crow puts it, that "people are just balloons" when an astronaut crash-lands on a diminutive planet that shrinks him down to a fraction of his size. Following in that goofy vein, Attack of the Puppet People — which was also riffed by the MST3K crew in RiffTrax form — a lapsed puppeteer shrinks unsuspecting folk down to a small, befriendable size. While both movies are enjoyable on their own, we'd recommend the MST3K-ified versions first.
---
3. Fantastic Voyage

20th Century Fox
A theme park ride disguised as a movie, the 1966 sci-fi flick Fantastic Voyage takes a surprisingly grim backdrop (an attempted Cold War assassination) and turns it into a rollicking adventure when a diverse crew are ensmallened and injected to fight a brain clot in the scientist who created the technology. With only a limited amount of time to stay shrunk, the film becomes Speed in a Corpuscle and a classic in the genre.
---
2. The Incredible Shrinking Man

Universal-International
Adapted for the screen by the late Twilight Zone dignitary Richard Matheson, The Incredible Shrinking Man goes existential when grimacing lead Grant Williams is exposed to a war analogy-heavy cloud and begins to slowly, steadily shrink. The smaller he gets, the more amusing the obstacles: kissing his wife, sitting in chairs, battling arachnids. The film ends on a emotionally ambiguous note, with the lead contemplating his everlasting significance in the universe while knowing he'll never stop shrinking.
---
1. Innerspace

Warner Bros.
An '80s popcorn flick if there ever was one, Innerspace depicts a "miniaturization Space Race" between two labs that are competing for the technology. During a hijacked experiment, Dennis Quaid and his inner-spacepod are condensed and injected into hapless bystander Martin Short. Featuring pixie dream girl Meg Ryan, the always-perfect Kevin McCarthy and Robert Picardo, and jaw-dropping effects that were pulled off without any CGI assistance, this Joe Dante masterpiece is endlessly rewatchable and clearly a cinephile's celebration of all the "miniature mayhem movies" that came before it.