Amy Schumer Mocks Boyhood, Divergent and More in Foulmouthed MTV Movie Awards Opener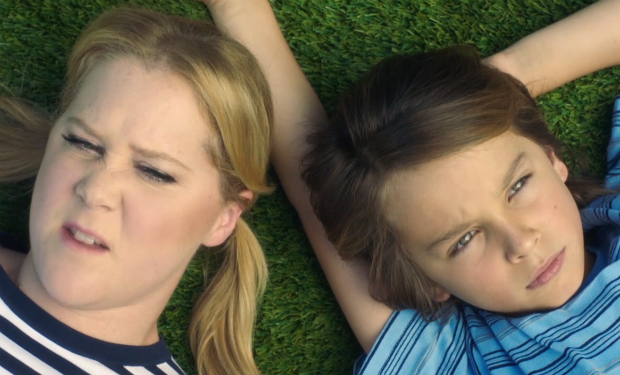 Posted by Nick Romano on
Amy Schumer is quite the lovable Trainwreck. The comedian hosted the MTV Movie Awards Sunday night and brought her jokes about HPV, yeast infections and side vag to an audience obsessed with The Vampire Diaries, Pretty Little Liars and whatever that Unfriended movie was. It was no easy task, but she killed it! While there were many spectacular moments from her uproarious evening, like her spoof Guardians of the Galaxy audition tape, her opening sketch is all anyone can talk about.
Watch her parody the likes of Boyhood, Pitch Perfect, Divergent, Whiplash, The Fault in Our Stars and The Hunger Games in one inappropriately, cuss-filled exchange.
The sketch's Boyhood and Whiplash spoofs (featuring Oscar winner J.K. Simmons) are easy targets when it comes to parodies, though audiences can't get enough of them. Remember when IFC's Independent Spirit Awards hosts Fred Armisen and Kristen Bell poked fun at Whiplash with Miles Teller? Now that was on our tempo!
But the great thing about Schumer is that she's never afraid to travel the roads less taken. This is, after all, the woman who made that "Milk Milk Lemonade" music video with Amber Rose and that unforgettable military assault video game sketch. So her cancer support group poke at The Fault in Our Stars was a walk in the park.
However, the best part of Schumer's opening sketch came at the very end. It lasted for a second or two, but it was hard to miss. We're talking about Elizabeth Banks dropping the Effie F-bomb.