8 Baseball Movies That Have Zero Understanding of How Baseball Actually Works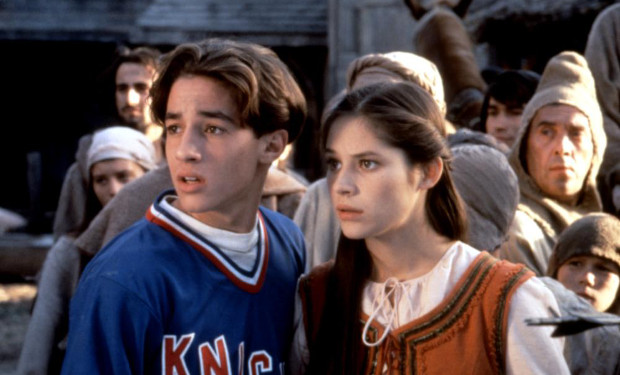 Posted by Cher Martinetti on
Baseball season has officially begun! You know who loves baseball? Hollywood. America's pastime and movies go together like overpriced beers and any MLB ballpark. But for every great baseball movie like Bull Durham, there's a baseball movie that is clearly made by people who don't know sh*t about baseball.
So whether you're routing for your favorite team today or rolling your eyes because you couldn't care less, we can at least all agree that these movies pack some serious WTF factor. Here are 8 movies that have an incredibly hard time grasping a relatively simple game.
---
8. BASEketball
In all fairness, they aren't really trying to get baseball right. Or anything right. This movie is pretty spot-on for the type of dumb games you make up when you're drunk with your friends.
---
7. Air Bud: Seventh Inning Fetch
Remember Bud, the overachieving Golden Retriever that could basically play every sport ever? Not only did he make every other dog's ability to catch a frisbee or lick its own nether regions look a lot less impressive, but he also never got the memo that a dog could never play in the Major Leagues.
---
6. Ed
Hollywood really tried making that whole "animals playing sports" thing work in the late '90s. Ed was not just your average chimp, though. He was apparently the Yoda of baseball, only in ape form. Could a chimp technically learn to play baseball? Sure. Could Matt LeBlanc ever have a hit movie career after this? Nope.
---
5. Angels in The Outfield
So the premise of this 1994 remake of the 1951 film of the same name is that some manager is an epic asshole of Lou Piniella proportions (Google the reference, non-baseball fans). Then he starts hallucinating and sees angels on the field who help the California Angels (get it??) win their division over their rival the Chicago White Sox. Only, those two teams aren't in the same division so that would never happen.
4. Rookie of The Year
It's a tale as old as time: Kid breaks his arm and his tendons heal too tight, leaving him with a rocket for an arm. He then gets recruited to the Majors instead of going to physical therapy to fix his serious medical condition. Also, is anyone else concerned that Gary Busey played a kid's idol?
---
3. Mr. 3000
There's no sport that's letting any retired player talk himself back onto his old team after bailing during the playoffs. More so, there is no way a team that sucks that bad is keeping the same manager who has been losing for over a decade.
---
2. The Scout
There is literally no way ever that anyone is striking out 27 batters with 81 consecutive strikes and still throwing so hard he can knock the catcher down. Harry Potter has a better chance of being real than Brendan Fraser's phenom in this movie. Even more unrealistic is George Steinbrenner letting any Yankee on the field with hair as long as Steve Nebraska's was.
---
1. A Kid In King's Arthur Court
So apparently Thomas Ian Nicholas is the MVP of bad baseball movies.
For some reason a kid gets sent back to Camelot to play baseball because he plays for a team called the Knights? This movie leaves so many questions, mainly what were the Disney execs smoking when they thought this was a good idea to green light?