Do These Hilarious Goodfellas Spoofs Amuse You??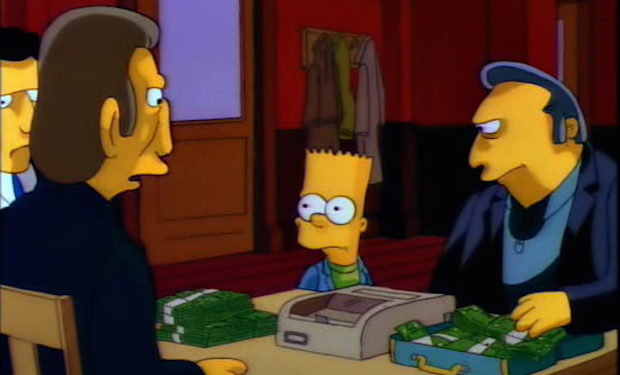 Posted by Mike Schuster on
Every once in a while a movie so distinctive, so iconic, comes along just begging to be spoofed. Be it the larger-than-life characters, snappy dialogue, or savage beatings for mentioning a stint as a shoeshine boy, the elements easily lend themselves to comedy — sometimes just based on reference alone. Martin Scorsese's 1990 classic Goodfellas is one of those movies. But like the shower scene in Psycho or Darth Vader's paternal revelation in The Empire Strikes Back, Goodfellas sparked such a parody abundance that it became hard to find the good among the lame.
Fortunately, we sifted through the chaff to come up with these six best Goodfellas spoofs. Enjoy!
6. "Raging Rudolph" (MADtv)
There's something about Scorsese's flashy ultra-violence that mixes so well with family-friendly productions. Perhaps it's our innate desire to see our cherished childhood friends curse, flirt, and kill, because this Goodfellas-inspired parody of the Rankin/Bass Christmas special Rudolph, the Red-Nosed Reindeer is very satisfying to see. That'll learn them reindeer for mocking a birth defect!
---
5. "The Goodfeathers" (Animaniacs)
Much like the frequent Sesame Street parodies that use strictly adult fare as a source, a few recurring characters in the madcap children's show Animaniacs represent the trio of leads from a movie that (hopefully) kids haven't seen. And yet, young or old, viewers can appreciate a quick-tempered cartoon pigeon flipping out over innocuous comments, whether the source inspiration was seen or not.
---
4. "Baldwin's Mob Buddies" (Saturday Night Live)
In the cold opening to a 1993 episode hosted by Alec Baldwin and Kim Basinger (remember when they were a thing?), Saturday Night Live turned Scorsese's long take of the Goodfellas goons into a rogue's gallery of outlandish Dick Tracy street toughs. There's Jimmy Five-Times (who says everything five times), Nick "The Puppet" Lamponi, and Out-of-Focus Eddie. And maybe it's our obsession with everything Norm Macdonald, but we'd watch a feature-length spinoff starring Richie Pause-And-Shout.

---
3. "Contemporary American Poultry" (Community)
It didn't take long for the cult comedy series Community to establish its trope-spinning style by taking every genre imaginable and turning them inside out. And by the time the show hit its 21st episode, viewers knew Dan Harmon's deep pop culture knowledge would be represented on screen. In "Contemporary American Poultry," the Greendale gang corner the chicken finger market and quickly learn the thrill of power and corruption like a certain Lufthansa crew.
---
2. "Bart the Murderer" (The Simpsons)
Voiced by the indelible Joe Mantegna, there was no question that the Simpsons character Fat Tony would become a regular by his first appearance. In this classic third season episode that spoofs Henry Hill's rise in the ranks, Fat Tony and his cronies hire Bart for his inherent mixology skills and lead him into a life of organized crime. The characters became so rife for parody that actual Goodfellas actor Frank Sivero sued Fox for $250 million for allegedly stealing his likeness for the character Louie.
---
1. "Pallies" (Mr. Show)
Watching a gangster movie like Goodfellas on TV is always a blast. Chock full of not-safe-for-network content, these films regularly have to be edited down — or better yet, awkwardly dubbed over — to meet the strict policies of the FCC. (That's why you should always watch it uncut on IFC!) And here, the team at Mr. Show spoofed the practice of lesser networks by using an infamous scene in Goodfellas and censored it to the point of inscrutability, proving they're a bunch of funny "mother-father Chinese dentists."