5 Predator Vs. Match-Ups We're Dying to See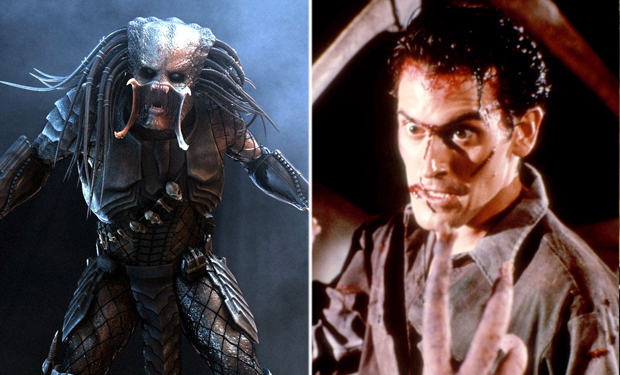 Posted by Mike Schuster on
Nearly 30 years ago, we were introduced to one of the strongest, most formidable villains to ever fall from the sky. Equipped with a cloaking device, a seemingly unlimited arsenal, and combat training that was beyond superhuman, the alien from 1987's Predator was destined for battle royales that crossed multiple franchises. And sure enough, after years of splashy comic depictions and 16-bit hypotheses, Predator took on the xenomorphs from the Alien franchise in the 2004 geek-baiting actioner, Alien vs. Predator. But all the movie did was stoke up the flames of possibility and generate more fan-fictional melees with other iconic rivals.
So in the interest of mashing cinematic universes like a crazed studio executive, here are five Predator match-ups we'd love to see on the big screen.
5. Pinhead Vs. Predator
Who better to match wits with a being from another planet than a being from another dimension? Pinhead, the breakout baddie from Hellraiser, is one of only a few characters that has both the brains and supernatural brawn to fight the one-alien army. Able to teleport, resist projectiles, and summon hooks and chains for gruesome mutilation, The Bringer of Pain can't be taken out by your average, everyday shoulder-mounted plasma caster.
---
4. Batman Vs. Predator
We've already witnessed how well the Dark Knight could handle himself against the Predator in the all-too-brief short film Batman: Dead End. But to see that standoff expanded and played out over the course of 120 minutes would be a brutal delight. And heck, if producers wanted to continue the themes and also throw in the Joker and a few dozen xenomorphs, who are we to say no?
---
3. Ash Vs. Predator
If there's anyone who knows a thing or two about battling other-worldly creatures, it's Ash from the Evil Dead series. Quick with the quip yet slow on the uptake, Bruce Campbell's beloved character would present a conflict that was as visually dynamic as it was amusing. After all, what good is a fan-driven movie match-up if it isn't brimming with fun?
---
2. Indiana Jones Vs. Predator
Intergalactic mercenary might versus 1940s all-American gumption? Yeah, we're in. Injecting Predator into Indiana Jones' pulpy serial world may seem like too disparate of a combo — and yes, we all remember what happened when aliens were introduced to the franchise — but that would be underestimating the ingenuity of a globetrotting archaeologist who once killed a battalion of Nazis with ghosts.
---
1. RoboCop Vs. Predator
One 1987 cinematic icon versus another, this is one graphic brawl that would probably retain RoboCop's original X-rating. And yet, it's a premise that could break box office records: the hero cyborg cop tasked to take out a marauding alien serial killer set against the mean streets of a futuristic, crime-ridden Detroit. Add some late-'80s Verhoeven satire and a ruthless Kurtwood Smith, and we're ready to reserve our tickets now.