15 Things You Probably Didn't Know About Clerks II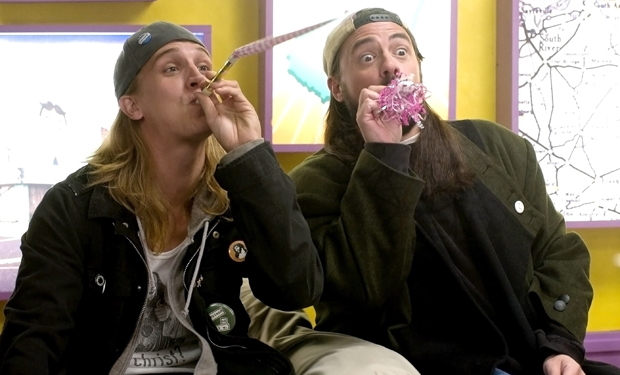 Posted by IFC on
9. Filming briefly saved Mooby's from the wrecking ball.
The Mooby's restaurant in the film was a former Burger King located in Buena Park, California. The restaurant was slated to be torn down, but the demolition was delayed for the movie, which took it over for the 30-day shoot.
---
10. The Mooby's set was a little too convincing.
Shooting was repeatedly delayed when people drove up to order food.

---
11. Clerks II was a family affair for Smith.
Dante's girlfriend Emma is played by Smith's wife Jennifer Schwalbach, and the little girl who waves at Dante during the film's montage is Smith and Schwalbach's daughter, Harley Quinn Smith. Smith's mother briefly reprises her role from the first movie as the "Milk Maid" in the film's final shot.
---
12. Jay and Silent Bob were really clean.
Jay and Silent Bob are sober in Clerks II because Jason Mewes (who plays Jay) became sober following years of drug addiction in real life. The story the character tells in the movie of how the two became sober—including getting pulled over under the influence while driving a car with its airbags deployed and being sentenced to a strict 6-month stint in rehab—actually happened to Mewes.
---
13. Becky was hard to cast.
Initially, Smith wanted his wife to play Becky, but producer Weinstein wanted a star for the role. Bryce Dallas Howard, Sarah Silverman, Ellen Pompeo, Liv Tyler, and Rachel Weisz all passed on the part—Howard had scheduling conflicts with the film Lady in the Water, Silverman didn't want to be typecast as the "girlfriend," Pompeo had scheduling conflicts with the television show Grey's Anatomy, Tyler couldn't commit because she had recently given birth, and Weisz simply didn't want to appear in the movie. Eventually, Rosario Dawson was cast as Becky.

---
14. Smith enlisted his peers for help.
During the post-production editing process, Smith screened a workprint of the film to his friends and fellow directors Robert Rodriguez and Quentin Tarantino for feedback and tweaks.

---
15. Audiences loved it.
Clerks II screened out of competition at the 2006 Cannes Film Festival and received an 8-minute standing ovation from the crowd following the premiere screening.