15 Things You Probably Didn't Know About Clerks II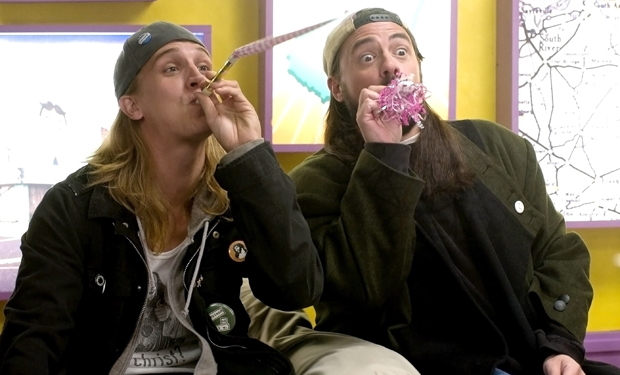 Posted by IFC on
Even if you know Kevin Smith's best one-liners by heart, there's probably something you don't know about the making of Randal and Dante's second adventure in clerking.
1. Kevin Smith came back for one last round.
Jay & Silent Bob Strike Back was intended to be the final film in Smith's fictional "View Askewniverse" that featured his connected cast of characters. That film even featured a post-credit sequence featuring God (played by Alanis Morissette, who was reprising her role from Smith's Dogma) closing an "Askewniverse" book that says "THE END." But Smith was inspired to return to the characters following the critical and financial failure of his film Jersey Girl.

---
2. The Green Hornet nearly stopped it.
Following Jersey Girl, Smith initially signed on to direct the film adaptation of The Green Hornet. Instead, he opted to return to his roots with Clerks II because the pre-production on The Green Hornet became too impersonal for the director.
---
3. Smith cycled through his subtitles.
The original title for Clerks II—as revealed in the credits to Dogma—was Clerks 2: Hardly Clerkin'. The title was then changed to The Passion of the Clerks (a play on Mel Gibson's The Passion of the Christ) for Smith's initial drafts of the screenplay.

---
4. Smith did a quick edit on the screenplay.
Producer Harvey Weinstein thought Smith's first draft of the script was too long and suggested the writer/director include high school flashback scenes featuring Dante and Randal. For the final draft of the script, Smith simply cut 15 pages and resubmitted it. Weinstein immediately gave the trimmed-down version the green light.
---
5. Randal was a holdout.
Actor Jeff Anderson (who plays Randal) didn't want to appear in Clerks II because he had been typecast after the first film. Smith told Anderson over lunch that Clerks II was a movie they all needed to make. Anderson later said he was persuaded by Smith's confidence in the material.
---
6. Creating terribly grainy footage was hard work.
The first movie's distinctly grainy, black and white 16mm look proved difficult to recreate for certain scenes in Clerks II, but Smith decided to update the sequel and shoot the rest on 35mm color film. The director used Spike Lee's 2002 film 25th Hour as a reference for the way he wanted the color film in Clerks II to look.

---
7. The convenience store from Clerks made a return appearance.
The Quick Stop convenience store is at 58 Leonard Ave in Leonardo, NJ.

---
8. Kevin Smith's childhood home is also in the film.
It's the pink house where Dante picks up Randal for their new job.