10 Most Cringe-Worthy Rap Performances in Movies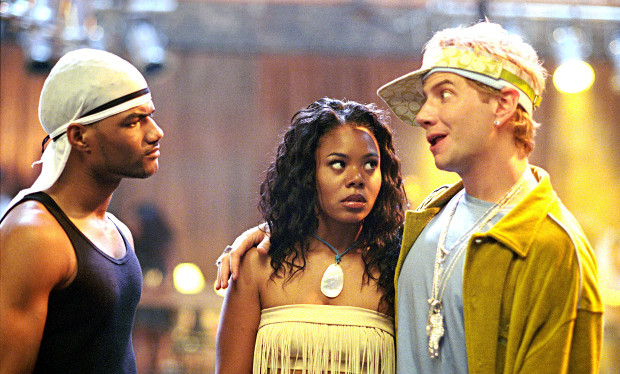 Posted by Mike Schuster on
Ask the head of any multibillion-dollar movie studio and they'll tell you: That youth demographic is a tough nut to crack. With trends shifting by the hour and marketing departments only now catching up to 2012 slang, how could any middle-aged studio executive expect to keep up? And considering that every failed attempt to appeal to young adults is cruelly mocked online, these poor, innocent, out-of-touch producers are walking a tightrope simply to pander to a potentially lucrative market they couldn't care less about. Where's their thanks?
Nevertheless, these moviemakers soldier on and do their damndest to somehow connect with an increasingly skeptical age group. And what gimmick well have they been forced to return to for three decades? That rap music those dang kids love so much. But even with the best of intentions, it sometimes doesn't quite work. Or to put it another way, nothing makes an audience cringe more than a terrible rapper.
With Comedy Bang! Bang! celebrating hip hop this week, turn that cap sideways and take a look at the 10 worst rap performances in movies.
10. Kid 'N Play, Class Act
One of the few rap acts that can be identified by hair, Kid 'N Play was, and still is, best known for their pajama-jammy-jams in the House Party franchise. But in 1992, right when gangsta rap was exploding, the duo released Class Act which featured a pro-school, anti-drug, all-embarrassing rap performance at a teen dance — punctuated by some weasley vamping from a certain Mr. Pauly Shore.
---
9. Mike Myers, Austin Powers in Goldmember
If the schtick hadn't worn thin by the umpteenth time the "funny guy" at work put a pinkie to his puckered lips and hissed "One million dollarrrrs!," then this rap from the third installment of Austin Powers certainly drove the Dr. Evil act straight into the ground. Combining the tried-and-true hilarity of white guys rapping with incessant sight gags based on dwarfism, the comedy in this sequence didn't hold up by the time the movie hit post-production.
---
8. Jamie Kennedy, Malibu's Most Wanted
By 2003, it had been a long time since Jamie Kennedy earned laughs in the Scream series when he tried to adapt his short-lived prank show's white rapper persona to the big screen. As expected, the results failed to resonate with folks who didn't want to feel humiliated on someone else's behalf. But on the plus side, comments like "Dude, you're ripping off Jamie Kennedy" helped deter many subsequent attempts of lame white rapper characters.
---
7. Vanilla Ice, Teenage Mutant Ninja Turtles II: The Secret of the Ooze
Arguably the biggest punchline in music history, Vanilla Ice was rocketing out of the spotlight by the time he appeared in the Teenage Mutant Ninja Turtles sequel. And as kids were also beginning to outgrow peak ninja turtle saturation, this dance fight/rap scene became a perfect storm of outdated and an early-'90s zeitgeist puzzle as to who's dragging down who here.
---
6. The Leprechaun, Leprechaun: In the Hood
Four years after House of Pain's breakup, Irish-flavored rap attempted a comeback in the form of Warwick "God, I Miss Willow" Davis dropping some science as The Leprechaun. After the mythical gold peddler is freed from imprisonment, he hits the stage backed by a Casio keyboard drum beat and uses his powers to turn the female waitstaff into booty-shaking strumpets — which, admittedly, isn't too far off from most rap videos.
5. Neil Patrick Harris and the Smurfs, The Smurfs
Even without asking him, it's safe to assume Neil Patrick Harris would gladly watch every awkward pubescent moment as Doogie than glance at one frame of this scene from 2011's live-action Smurfs. Flagrantly ignoring proper Guitar Hero gameplay, Harris backs the proactive, in-your-face CGI forest creatures on Run-D.M.C.'s "Walk This Way" and proves that sometimes you shouldn't fully commit to a role.
---
4. Tom Hanks and Dan Aykroyd, Dragnet
There's not enough room in this column to get into why 1987's Dragnet reboot didn't work — much less get into the perils of force-feeding nostalgia onto a new generation — but the music video released alongside the movie is more awkward than a thousand Rappin' Rodneys. Putting classic Jack Webb lines to a synth beat while stiffly dancing in unison, Hanks and Aykroyd perform a dazzling trainwreck of regrettable ideas.
---
3. Matthew Perry, The Ron Clark Story
The cast of Friends have their share of embarrassing movie roles, but they tend to be during the run of the series when they were young and hungry. Then there's the made-for-TV movie The Ron Clark Story which Matthew Perry signed on for in 2006. Resurrecting the "teacher connects with urban youth" genre from the grave, Perry slips on a backwards hat and raps about the history of George Washington, winning over the exceptionally impressionable teens. (And as you watch, bear in mind, Perry was nominated for a Primetime Emmy for this role.)
---
2. Al "Dunkaccino" Pacino, Jack and Jill
Even though it's presented as a tongue-in-cheek comment on celebrities shilling products for a paycheck, it's hard to consider this scene satiric when it's actually a celebrity shilling a product. In a movie where Adam Sandler plays mixed-gender fraternal twins, no amount of sellout commentary could distract us from how far esteemed actor Al Pacino has fallen as he raps, tap dances, and mugs into the camera. In other words, if it's more disturbing than him hitting on Sandler as a woman, satire doesn't matter.
---
1. Everyone involved in this scene from Teen Witch
And finally, we have perhaps the most gloriously misguided co-opting of black culture in any '80s movie. Decked out in a Hawaiian shirt, a formal vest, and suspenders-with-jeans, this group of high schoolers in their 20s rap about being hot and daring the listener to "top that." Well, with the help of her friend's bewitching power over humiliation and trauma, a teen girl does, in fact, top that with a jaw-dropping tour de force of gawky one-upmanship.