10 Things You Missed While Watching the New Star Wars Trailer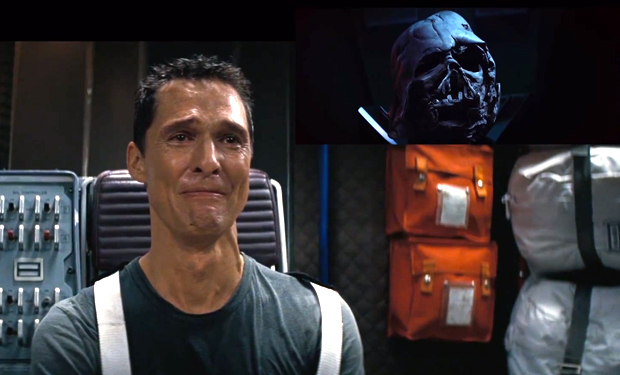 Posted by FIX Staff on
The Internet collectively stopped yesterday to watch (and weep) over the new trailer for Star Wars: The Force Awakens. Here are a few things you might have missed while being glued to your computer.
1. Your daughter's birthday because you were too busy dissecting the trailer frame by frame.
2. Harrison Ford landing a small plane in your neighbor's azalea bush and we'll use the term "landing" loosely.
3. The 20 years between you and the film's target demographic.
4. The lucrative marketability of nostalgia. Fuller House, anyone? No? Too bad, it's coming.
5. Everyone at work rolling their eyes when you talked about whether or not Darth Vader is still alive at lunch.
6. How the kids of your favorite characters will somehow be more interesting than the parents of your favorite characters.
7. The degree of aging that has hit the returning cast members and how we're all on a hopeless death march toward the grim specter of Death.
8. The worsening situation in Yemen.
9. The Jar Jar Binks cameo. Really, it's in there. You didn't see him? We did! It's "The Dress" all over again.
10. The touch of another human being. Also, The Hateful Eight trailer. More like Kill Inglourious Django, amirite??
— Mike Schuster and T.M. Rider
---
Also, check out this genius Matthew Mcconaughey reaction video by filmmaker Oskar Arneson, which is currently blowing up on Reddit.