8 Talking Animal Movies That Are Definitely Not for Kids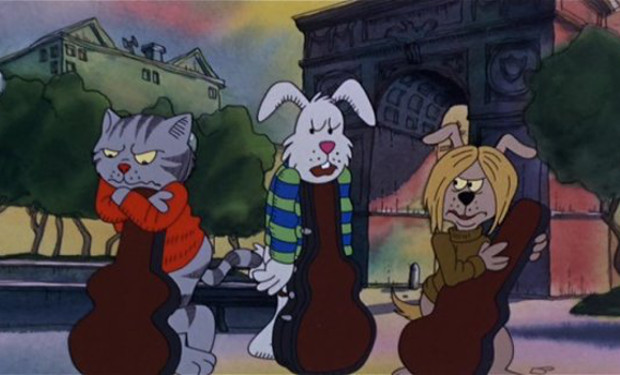 Posted by IFC on
By Sara Franks-Allen
In most cases, there's nothing more appropriate for kids than an animated movie about talking animals. What could be safer when you need to keep the little ones occupied for a while so the adults can take a much deserved break? But not every film with puppy or bunny protagonists is really made with a younger audience in mind. Here are ten talking animal films that are really more for the adults in the room, ranging from family films with slightly more mature themes to the literally X-rated. (Warning: Some trailers are NSFW.)
8. Animal Farm (1954)
George Orwell's 1945 allegorical novel is one of the granddaddies of talking animal stories for adults, so it makes sense that this animated adaptation is an early example of talking animal movies for grown ups. The C.I.A. actually funded the making of the film, hoping to win hearts and minds during the Cold War. Although Orwell's bleak ending is changed to a more hopeful one showing the animals preparing for a second revolution against the tyrannical pigs, most of the movie remains faithful to the book's farm that mirrors Russia from the 1917 revolution to Stalin's reign. And Boxer still dies.
---
7. Fritz the Cat (1972)
The first animated feature ever to receive an "X" rating, Fritz the Cat is definitely not a movie for kids. The directionless Fritz seeks pleasure from drugs and sex while falling in with violent revolutionaries. Director Ralph Bakshi went on to create more animated films for mature audiences, including Wizards and Cool World. Though it clearly wasn't for everyone and Fritz's creator — legendary underground cartoonist R. Crumb — all but disowned it, Fritz found its audience as a midnight movie and made over $90 million worldwide.
---
6. Watership Down (1978)
Few films have suffered from the perception that animated movies about animals must be for children as much as this one. Untold numbers of parents have picked up what they believed to be a nice bunny movie for the kids, only to have the tots traumatized as they watch Fiver, Hazel, and Bigwig face life or death battles with humans, predators, and other rabbits. It's a well crafted movie and faithful to the original book, but kids and particularly sensitive adults should sit this one out.
---
5. The Plague Dogs (1982)
If you stayed up nights crying over Watership Down, be glad that your parents never rented The Plague Dogs. Sharing both a director and an original book author with Watership Down, The Plague Dogs tells the story of two dogs who escape from an animal testing facility and search for a place where they can live out the rest of their days in peace. The published version of the book it's based on has a happy ending for the dogs, but the film ends on an ambiguous note, more in line with the author's original draft for the book.
---
4. Peace on Earth (1939)
At first blush, this 1939 MGM short might look like your standard cute animal Christmas cartoon. But the adorable animals' town is built from discarded weapons and armor. The gut punch arrives when two little squirrel children ask their grandfather what "men" are and Gramps tells the story of how humanity destroyed itself in an endless series of wars. The animation style becomes startling realistic as the old squirrel relates the fate of the last two people on Earth, who perished while shooting at one another across the trenches. The idea that there will only be "peace on Earth" when humans aren't around anymore is a pretty bold statement, especially right at the beginning of the second World War.
3. Pom Poko (1994)
The Japanese film Pom Poko (or Modern-Era Tanuki War Ponpoko) is best known as the movie where raccoons use their giant testicles to attack people. While that's true (the characters are actually tanuki – a Japanese canine that resembles a raccoon), it's not the whole story. Pom Poko is about the tanuki fighting to save their forest home from human development. Despite fantasy elements like the shapeshifting abilities of the tanuki, this isn't a story with easy answers or a happy ending. It's a hard yet hopeful look at what happens when traditional societies and modern progress clash.
---
2. Rock & Rule (1983)
Rock & Rule (also known as Ring of Power outside the U.S.) was the first feature film from Canadian animation studio Nelvana. The story draws heavily from Nelvana's earlier TV special The Devil and Daniel Mouse. While the plot about a small town rock band trying to stop aging rock legend Mok Swagger from summoning a demon isn't terribly adults only, the film includes scenes of drug use, some mild sexuality and profanity, and a rock heavy soundtrack (Iggy Pop, Cheap Trick) clearly designed to attract older teens. The film received almost no U.S. release thanks to a change in management at distributor MGM killing support for it. But it eventually gained a cult following thanks to late-night airings on various cable channels.
---
1. The Nine Lives of Fritz the Cat 
The bizarre 1974 sequel to Fritz the Cat is like Cheech and Chong's Nice Dreams if it starred a randy feline hanging out with Hitler. A depressed, now domesticated Fritz daydreams what his life could've been like in a series of vignettes involving everything from a dog version of Der Fuhrer to Fritz's outer space adventures. Oh, and plenty of dated racial stereotypes and creepily amorous animals. Fun fact: Director Robert Taylor, who passed away in 2014, worked as an animator and storyboard artist on two decidedly more kid-friendly talking animal cartoons — Teenage Mutant Ninja Turtles and Ducktales.