10 Plot Shifts That Came Out of Nowhere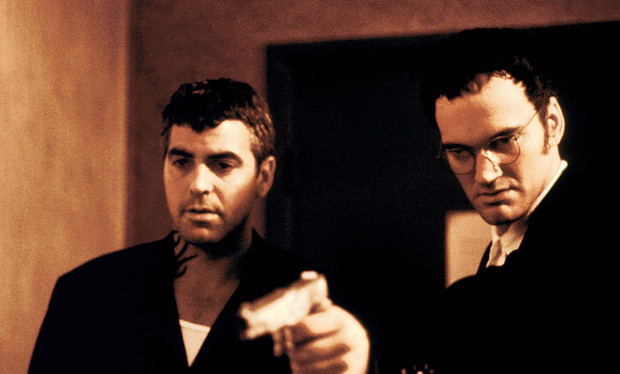 Posted by Mike Schuster on
We all know From Dusk till Dawn is a vampire movie. It had vampires in the trailer, bats on the poster, and the title itself plainly describes a bloodsucker's daily schedule. But those who've seen the movie know the undead don't make their presence known until the one-hour mark — long after an unrelated bank heist and kidnapping leads the protagonists into the seedy bar south of the border. Put simply, From Dusk till Dawn isn't a vampire movie for longer than it is one, and yet it's the mid-movie plot shift that helps make it such a fun cult classic.
But Robert Rodriguez's grindhouse carnival ride isn't the only time audiences were blindsided by a total shift in story and tone. Here are 10 other movies with plot shifts that came outta nowhere. Heads up: It's about to get spoiler-rific below!
10. Stripes
Although Full Metal Jacket is usually cited as a war film that completely changes midway through, there's another military-themed movie that takes an even sharper turn from comedy romp to rescue mission behind enemy lines. Stripes appears to be your typical "rehabilitated schlub" comedy with future Ghostbusters Bill Murray and Harold Ramis as the leads. But after basic training, when Stripes seems like it's wrapping up, the film suddenly jaunts to Russia where Murray and Ramis' troop — and a motorhome with a flamethrower — have to be rescued. Not even Kubrick is capable of pulling off that tonal shift.
---
9. Sunshine
28 Days Later director Danny Boyle returns to his "the hunted becomes the hunter" roots with 2007's Sunshine — but not until the third act. Gleefully spitting in the face of hard science, a group of astronauts embark on a mission to deliver a massive nuclear payload to the surface of the sun, thereby reigniting the dying star. But just as the audience's disbelief is able to be suspended, the movie changes from Interstellar-lite to slasher flick when the severely burned captain of a previous mission stalks the main characters like a voracious stowaway, à la Alien.
---
8. Miracle Mile
Where will you be when nuclear annihilation strikes? If you're Anthony Edwards in the largely forgotten 1988 movie Miracle Mile, it's in the middle of a romantic comedy. From the top, Edwards plays his affable Goose-y self trying to court a woman he met at the La Brea Tar Pits. But as we brace ourselves for a whimsical, Katherine Heigl-level assault on our senses, a misdialed phone call alerts Edwards to an imminent nuclear holocaust and completely shifts the story to an apocalyptic thriller. Hey, whatever saves us from a bridal gown montage is fine by us.
7. Million Dollar Baby
In 1994, a scrappy Hilary Swank showed the world that she could handle herself in a fight, truly earning the title of The Next Karate Kid. 10 years later, she proved she still had the muscle and heart…to treat us to a dissertation on the morals of euthanasia. Trained by an old leather wallet (Clint Eastwood), Swank rises through the boxing circuit ranks to become a beloved underdog on par with Rocky. But everything changes halfway through the film with a simple post-round sucker punch, a broken neck, quadriplegia, and ethical dilemmas over killing your surrogate daughter. That definitely wasn't in Mr. Miyagi's purview.
---
6. Death Proof
Debates are still being waged over which half of Grindhouse is superior — mostly by the few dozen who saw the double feature in theaters. But nobody could admit that they saw what was coming during Tarantino's section, Death Proof. Continuing the tradition of another film further down this list, Quentin invests us in the lives and minutia of a group of women — leading us down texting subplots and hanging lapdance threads — only to violently kill them off midway through the film via head-on collision. And like a bad case of whiplash, we are then introduced to another group of women as if Quentin's starting another movie. And this group of ladies is far more deadly.
5. The World's End
Writer-director Edgar Wright is known for his habit for subverting genre tropes while simultaneously celebrating them, and that also applies to how he tells a story. Shaun of the Dead begins like a romantic comedy but turns into a zombie film, Hot Fuzz spends most of its time mocking action cliches but then revels in them, and nothing in the first half of The World's End would make it seem like it's a modern retelling of Invasion of the Body Snatchers. But as we get to know an estranged group of pals as they re-attempt an impossible bar crawl, out of nowhere, blue-goo androids attack and threaten the entire mission.
---
4. Click
No one expects to cry at an Adam Sandler movie. (Well, for intended reasons, anyway.) But audiences thinking they were about to spend an hour and a half laughing at Sandler ogle slow-motion bosoms were in for a tear-jerking surprise. Click begins like your boilerplate Sandler movie with the man-child acquiring a magical remote control that can control time, i.e. rewind to life's cherished moments or fast-forward through dull ones. It isn't until after a few wacky hijinks that the movie introduces themes far heavier than Sandler's usual fare when he fast-forwards too far and is greeted by cancer, chemotherapy, heart attacks, absentee parenthood, and death. Then again, it might've been a riot with Kevin James.
---
3. Adaptation
Screenwriter Charlie Kaufman is anything but predictable, doubly so when he — and his twin alter ego — are basically writing a movie in real-time from within. In one of his few unironically great performances, Nicolas Cage plays Kaufman and his imaginary twin brother as they try to adapt an unadaptable novel into a screenplay. As Kaufman #1 struggles to deliver a unique script that rejects all the banal and formulaic plot points, he hands the reins over to his hack (yet successful) brother, which switches the movie over to all the expected tropes — including deus ex machinas, tearful goodbyes, and personal redemption. It's like a dozen levels of meta intersecting with themselves.
---
2. Audition
Going into a Takashi Miike movie, you have to prepare to leave as bloody and scarred as one of the characters. But midway through Audition, even the savviest viewers might've expected that maybe the purveyor of unspeakable cinematic torture turned over a new leaf. After all, it's just a quirky tale about a lonely widower auditioning young woman to be his new wife. That is, until the woman of his dreams drugs him, sticks needles in his eyes, and severs his foot with a sharpened garrotte in a startling and painfully extended scene. The lesson is, stick with eHarmony.
---
1. Psycho
The granddaddy of plot shifts, Psycho's shower scene is unfortunately one of the most spoiled moments in cinema history. But even knowing the sequence beforehand, viewers can't help but marvel at what a misdirect the entire first section of the movie is. What begins as an embezzling scheme, carried out by a lovely real estate secretary, is wholly abandoned when she's brutally murdered, as if to say, "Nope, it ain't about her," in the bluntest way possible. The film, as we all know now, then focuses on motel manager Norman Bates and his kindly, devoted mother. Over half a century later, it remains the greatest plot shift of all time.