10 Advantages to Having Your Own Clone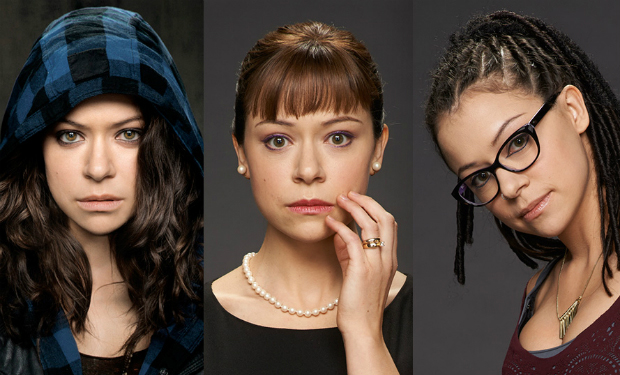 Posted by Nick Romano on
AMC Networks is cloning the season 3 premiere of Orphan Black and airing it across all of it U.S. Networks – IFC, AMC, WE tv, SundanceTV and BBC America on Sat, April 18 9p.
BBC America's hit sci-fi drama series Orphan Black is coming back for its third season, which means the Clone Club will be back in session. Mark it in your calendars: April 18th at 9 p.m. EST is when we'll get another dose of Sarah, Alison, Cosima, Helena and the rest of the gang.
In the premiere, the Project Leda sisters are going to have to come to each others' aide: Sarah is pursuing Helena, who's trapped in a compound, and Alison and Donnie are having some money troubles. We have faith everything will work out — and if it doesn't, it'll surely be entertaining to watch. But most of all we're super jealous of the sheer awesomeness that comes with having more than one of yourself.
Everyone at one point or another has imagined what it would be like if there were two, or three, or five of you walking around the planet. And watching Orphan Black just makes us want to start funding cloning research so we can have our very own crazy Helena or chill pal Cosima. Here are 10 advantages to having a clone (or two) around to watch your back.
10. There Ain't No Party Like A Clone Club Party

We know you have a lot of goals and aspirations, but let's face it, there are not enough hours in the day to do whatcha wanna do. This will all change when all of a sudden there's more of you. It warrants an impromptu dance party, too.
---
9. You Can Get Into So Much Trouble
Double, double, toil and trouble, amirite? The Weasley twins from Harry Potter aren't clones, but their shenanigans rival that of the Clone Club. I mean, they're no Helena, but a little mischief never hurt anyone. The more clones you have, the more fun (or trouble) you can get into.
---
8. You're Doubling Your Wardrobe
It's a cliche reason at this point, but true nonetheless: Clothes are expensive as hell these days. Old Navy is the new Gap, Gap is the new Banana Republic, Banana is the new J.Crew, and the Crew is too expensive for even suburban housewives like Alison on white wine-tinged shopping sprees. If you have a clone, that means sharing is caring.
---
7. It's Great For Experimenting
There's no better test subject than a clone. Wanna see if you can handle psychedelics? Or even a particularly spicy sriracha sauce? Get a temperature check first by having your replica give it a go. Thinking about dying your hair? Have your clone look like a tragic mess for a little while. Basically your clone is your own personal human guinea pig.
---
6. You Can Face Your Faults and Change…Your Clone
Nothing would make you take a long, cold hard look at yourself more than having, uh, yourself staring right back at you. But who wants to actually change? Make your clone make the hard life changes you'd rather ignore. That way you have more time for the truly important things — like marathoning past seasons of Orphan Black.
---
5. Staging Group Singalongs Has Never Been Easier
We've all been there. It's karaoke night, the music's pumping, and you want to break into a killer group singalong to show everyone around who's boss. Your friends can't do, 'cause they're horribly off-key. That's why you need more of you in the mix to properly convey the power of "Motown Philly" or Spice Girls' "Wannabe."
---
4. Clones Always Have Each Others' Backs
If you're in trouble, there's no one you'd rather have in your corner than…well, another you. As Bjork once sang, how about a whole army of you? That's one thing that made everyone envy Agent Smith from The Matrix. He's a royal douche, but his ability to copy himself was a pretty sweet trick.
---
3. There's Always Someone to Laugh at Your Jokes
Have you ever tried to tell a joke to your friends, but then no one acknowledges it? Everyone stays silent and then maybe you tell it again just in case they didn't hear it the first time. If you had a clone, that would never happen. Twice the power, twice the sass, twice the laughs.
---
2. You Can Get Away With Murder…Literally
Haven't you ever watched Law & Order or any soap opera ever made? If you have a sadistic twin who gets his or her kicks from pulling the wings off of flies, it doesn't help your case. But if you're the one pulling some off-the-books illegal activity, it's good to have a scapegoat who looks exactly like you.
---
1. Every Halloween = Instant Group Costume
Every Halloween costume competition should just fork over the top prize to you in advance of what will come every October 31st with your clones backing you up. How about taking a nod from The Big Bang Theory and get your clones to join you as The Flash in motion?