Kevin Smith's Original Ending for Red State Was Bats$!t Crazy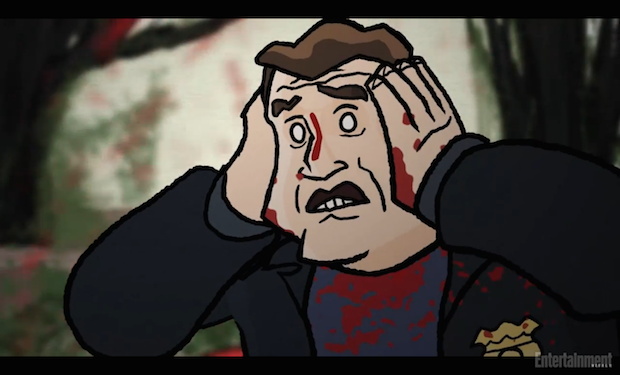 Posted by Mike Schuster on
While fans young and old — mostly young — will flock to theaters to catch the latest hijinks from Jay and Silent Bob, Kevin Smith's forays outside the Clerks universe have been met with scant acclaim and fewer ticket sales. The dismal reception is arguably fitting for unfortunate misfires like Jersey Girl and Cop Out, but the same can't be said for Smith's very decent, very watchable religious thriller Red State.
(Warning: Spoilers abound below!)
The movie follows three sex-starved teens as they're catfished, kidnapped, and made examples of by a fundamentalist cult and its Fred Phelps-ian leader, played fantastically by Michael Parks. The tension builds into a standoff and shootout between the church and the Feds — resembling how Rob Zombie would depict the Waco siege. Unfortunately, the movie ends with a whimper rather than an apocalyptic bang. What sounds like Gabriel's mighty trumpet, signaling the end of the world and proving the fundamentalists right, turns out to be nothing more than some offscreen pranksters described in a sedate epilogue.
Those who've seen Red State were probably expecting a full-on cameo by the Four Horsemen, and they'd be right: That was Smith's original plan had he the budget to pull it off. As explained by the man himself in a video by Entertainment Weekly, the original ending featured sword- wielding angels, torso explosions, and the Rapture Riders — all at a cost that would dwarf the budgets for every one of Smith's previous films put together. But with only $4 million to do the entire film, he had to scrap the $15 million ending and opt for the simpler finale.
However, thanks to EW's video series Scene Unseen, we're able to see Smith's original ending to Red State, albeit in animated form. And for the record, we would've gladly traded all of Zack and Miri Make a Porno to see a blood-soaked, slack-jawed John Goodman stare at a 10-foot angel, if only for a few seconds.