The Rock Killed It on SNL. Here Are the 5 Best Sketches of the Night.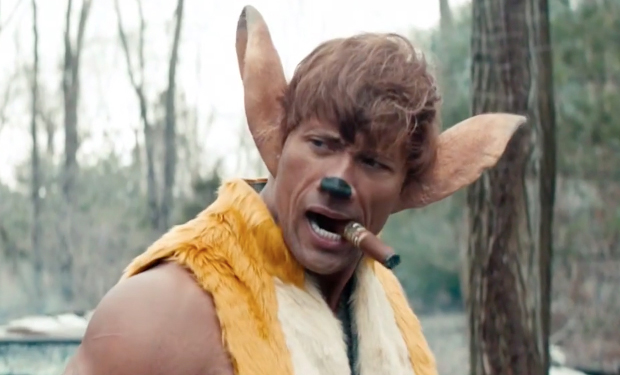 Posted by Nick Romano on
Not to be "that guy," but The Rock rocked it on SNL this weekend. Who knew the guy could be Fast and Furious-ly funny? Who knew he could be the (Scorpion) King of Comedy? Who knew he could Journey to the Center of our funny bones? OK, that's enough, but you get the idea.
Dwayne Johnson might be the best SNL host we've had this season so far. The episode, from the "dark and gritty" Bambi-meets-The-Expendables video to the hilarious dinner date sketch, was entertaining from start to finish. If you missed any of the hilarity that ensued, here's a quick rundown of the five best moments.
1. "New Disney Movie"
Are you sick and tired of all the fairy tales getting the "dark and edgy" treatment? Well, you haven't seen Bambi yet. SNL reimagined the classic tearjerking Disney character as a cigar-smoking, gun-toting, Rambo-esque fawn looking to avenge the death of his mother. Hunters look out, 'cause he's not alone. There's Thumper, who's "always thumpin'"; Flower, who smells bad but looks good; and Faline, the "girl Bambi." (The sketch gets bonus points for Jay Pharoah's hilarious Tyrese impression.)
---
2. "WWE Promo Shoot"
The Rock completely forgot how to talk smack. Playing wrestler Koko WatchOut, he's recording some promos for an upcoming match against Trashyard Mutt (Bobby Moynihan). Everything is going famously and people are getting amped…until Koko gets a little too personal.
---
3. "Dinner Date"
Are you crazy stiff right now, after watching The Rock playing a meathead loudmouth who ruins Kenan Thompson and Vanessa Bayer's date night? We feel like we've been effed in the brain without protection. In a sketch that could've been dull and lagging, Johnson throws out these one-liners as easily as his British girlfriend (expertly played by Cecily Strong) calls appetizers "nipples." "Nibbles"? Who knows.
---
4. "The Rock Obama Cold Open"
Jay Pharaoh's President Obama is almost (keyword "almost") as famous as Tina Fey's Sarah Palin, but he's losing control of his Cabinet. When Rep. John Boehner, Sen. Tom Cotton and Sen. Ted Cruz take a few jabs at his political effectiveness and, worse yet, his final four bracket, Obama Hulks out. A fun return of a character from The Rock's previous hosting SNL gig made even funnier by Leslie Jones as She-Rock Obama.
---
5. "The Jungle"
While The Rock's Bambi was a total badass, his version of Indiana Jones, Mr. Bones, is irresistible, especially for Kate McKinnon's performance as his randy love interest. In this spoof of the Indy franchise and the many TNT original movie knockoffs, The Rock keeps getting hit by poison darts while in the jungle on an archaeological excursion. To save him, someone has to suck out the poison, even when the darts prick his nipple, butt and Johnson Jr. (if you know what I mean). Worth watching just for Pete Davidson's barrel roll alone.