6 Great TV Shows Adapted From Movies (and 6 Really Terrible Ones)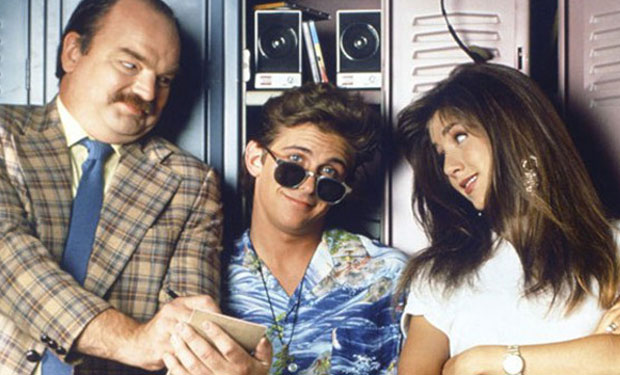 Posted by Brian Steele on
Adapting a television show from a movie isn't easy. Just because something works on the big screen doesn't mean it can hold up to the rigors of episodic storytelling. The task of replacing actors, characters, even tone, on a fraction of the budget, can leave the best intentioned projects looking like cheap fan fiction (minus the creepy sex). And that's ignoring those shows that were green lit as cash grabs, banking on a title, in place of a good script. There's no steadfast rule as to what works, and what doesn't. Here's a look at some of the best and worse examples of this trend.
GREAT: Buffy the Vampire Slayer
An example of what can happen when a great idea is allowed room to grow, original screenwriter Joss Whendon was put in charge of the TV version of the 1992 Kristy Swanson cult favorite movie, and given a long leash to explore the world of Sunnydale High. What resulted was one of the most revolutionary shows in the medium's history. Never happy with the film's execution, Whedon reworked the broad humor into something far more clever, and grounded the emotions, creating an all-time classic in the process.
---
NOT GREAT: Uncle Buck
And then there is was the TV version of Uncle Buck, which replaced the lovable and hilarious John Candy with the less lovable and hilarious Kevin Meaney. Ironically the crass sitcom wouldn't be entirely out of place on CBS' current line-up of multi-camera laugh-a-thons.
---
GREAT: Fargo
This show had no business succeeding. Operating with the unique tone of the Coen Brothers' original film, nearly two decades after it came out, the chances of coming off like a Halloween costume brought to life were legitimate. And yet, somehow creator Noah Hawley found a way to honor the original while carving out room for his own characters' stories. Hiring Coen vet Billy Bob Thornton only helped this show become a worthy successor to its Oscar-winning predecessor.
---
NOT GREAT: Ferris Bueller
This show was doomed from its opening scene, when lead Charlie Schlatter of 18 Again! fame cut a cardboard cutout of Matthew Brodrick in half with a chainsaw, calling his performance as Ferris "too white bread." Well, the only reason we're watching this show is because we liked that performance, thus making us wonder, why are we watching this show? Interestingly enough, another Ferris rip-off, Parker Lewis Can't Lose, debuted at the same time, and became a hit largely because it wasn't so handcuffed by the original.
---
GREAT: Alien Nation
Much like Highlander: The Series, Terminator: The Sarah Connor Chronicles, or The Young Indiana Jones Chronicles, this show is the perfect example of a movie creating a world so rich, it needed more than a two-hour running time to do it justice. The creators of this adaptation knew television was the perfect place to explore the nuanced politics of the original over time, while still throwing in a bunch of weird alien sex and murder.
---
NOT GREAT: Tremors
And then there are the worlds we don't need to know anything more about. That isn't meant to knock the 1990 classic Tremors, but we got most of the information we needed from it at the time. Worms under the sand? Check. Fred Ward is grumpy? Check. The two straight-to-DVD sequels helped fill in the blanks for the real diehards. By the time Sci-Fi green lit this TV series, the only cast member still hanging on was '80s TV Dad Michael Gross. When your fourth lead is now expected to carry the show, you have a problem.
GREAT: M*A*S*H
A Robert Altman classic about the futility of war, showrunner Larry Gelbart found a way to translate the film to the very specific conventions of the 1970s sitcoms. Pitch black humor and dying soldiers don't seem to scream for a laugh track, but Gelbart and his crew of talented writers found a formula that would lead to 14 Emmys. Though it ran for twice the length of the Korean War it was set it, the all-star cast helped turn this project into one of the great sitcoms of all time.
---
NOT GREAT: The Net
Hey, do you remember the movie The Net? I think it starred Sandra Bullock? Came out in the 90s? Was about this new fangled thing called the Internet? Not ringing a bell? And yet someone decided that this bland, forgettable artifact of its time was just the vehicle to launch a TV series off of. Either that, or they lost a bet. Either way, it wouldn't last a season, and would never be spoken of again. But if you like heroes trying to fight crime using dial-up AOL accounts, then this is the show for you.
---
GREAT: Friday Night Lights
An example of a great movie translating perfectly to the small screen, Friday Night Lights felt no need to reinvent the wheel. Shepherded by the film's director, Peter Berg, the show found a way to use what worked about the hit movie, and then dig in even deeper to tell the story of the Dillon Panthers. Here's a show, based on a movie, based on a book, based on a true story, and yet each iteration has somehow succeeded on its own merits.
Catch Friday Night Lights tonight at 10:15p on IFC.
---
NOT GREAT: Dirty Dancing
Nobody tried to reinvent the wheel here either, which turned out to be a mistake. For a movie based on the star appeal and romantic chemistry of its leads, this show became an experiment in what would happen without either. It turns out the answer was leaden performances and a series of bland dance numbers. No one had the time of their life watching this flop.
---
GREAT: Parenthood (2010 – 2015)
Jason Katims of My So-Called Life and Friday Night Lights fame managed to successfully turn the very '80s Steve Martin comedy into a resonate family drama for our time.
---
NOT GREAT: Parenthood (1990 – 1991)
Except that it wasn't the first time NBC tried its hand at a Parenthood show. Back in 1990, Ed Begley Jr., David Arquette, and a young Leonardo DiCaprio and Thora Birch starred in a sitcom version that skewed closer to the movie. (It even transported Randy Newman's "I Love to See You Smile" from the movie for the theme song.) As early attempts at the single camera dramedy go, it's not terrible. (Joss Whedon was on the writing staff.) But as adaptations of Parenthood go, it comes in a distinct second.