The 20 Most Badass Women From Tarantino Movies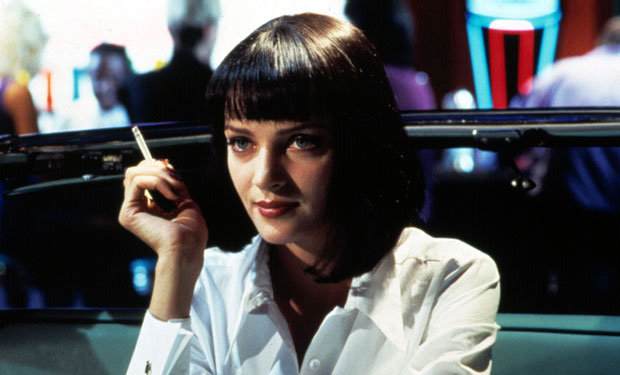 Posted by Rob Fee on
One thing you never have to worry about with Quentin Tarantino movies is having all the female characters in typical "damsel in distress" scenarios, desperately hoping a man comes in and saves them. They take care of themselves and have no problem roughing up a guy or two along the way. In preparation of Pulp Fiction airing this Friday at 7:30 on IFC, we're counting down the 20 most bad ass women from the man's filmography.
20. Broomhilda von Shaft, Django Unchained
While she's definitely not the most independent character on the list, Kerry Washington is such a tremendous actress she somehow finds a way to exude strength and determination out of a character that seemingly doesn't have much depth. Most of the females in Tarantino's movies are celebrated for their willingness to attack; she showed strength in his determination to survive.
---
19. Arlene, Death Proof
If we're being honest, the women of Death Proof are some of the most intimidating we've ever seen. They're strong, smart, and attractive, and they definitely realize it. Arlene may not be at the top of their pyramid of power, but she's willing to step up whenever deemed necessary and won't back down, even if it involves giving a stranger a lap dance.
---
18. Jungle Julia, Death Proof
She's the type of woman that would tell you to buy her a drink and you'd thank her for it. She's a local DJ on the radio so everyone knows her, but that doesn't stop her from doing whatever she wants whenever she wants. TMZ would love churning out story after story on her, but she wouldn't give them a second thought.

---
17. Abernathy, Death Proof 
Besides being a hell of a dancer, Abernathy earns her place on this list by delivering the head-smashing kick of death to creepy ol' Stuntman Mike.
---
16. Kim Mathis, Death Proof
She's blunt and abrasive, but what separates her from the rest of the group is that her stunt driving abilities rival those of any male counterpart. She knows how to take charge and, as Stuntman Mike found out, never backs down from a fight.
---
15. Bridget von Hammersmark, Inglorious Basterds
As a German film star Bridget von Hammersmark could have sat back and let World War II pass her by. Instead, she became a double agent for the Allies and was a major part in taking down the Nazis. Every moment was full of danger because one wrong move and her cover would be blown. It took Hans Landa himself to finally bring her down, but by that point her work had already been completed.
---
14. Vernita Green, Kill Bill Vol. 1
You don't become a member of the Deadly Viper Assassination Squad for nothing. The assassin, who worked under the codename Copperhead, is the lowest member on the list simply because she retired from the business and took on the role of a civilian. Still though, she may not have been in the game anymore, but that didn't make her any less deadly.
---
13. Kate Fuller, From Dusk Till Dawn
She didn't have any catchphrases or cool tattoos like Clooney's character, but in one night Kate went from an innocent girl on a road trip with her family, to a vampire slayer on the run with a fugitive. Talk about street cred.

---
12. Alabama Whitman, True Romance
You could look at the fact that she's a prostitute that decides to change her life trajectory in an instant by eliminating her pimp and getting out of the state and that would be impressive enough. However, the moment when she faces off against Virgil, one of the toughest mafia henchmen in the movie, and comes out victorious moves her from inspiring to borderline action star. We'd love to see Patricia Arquette reprise this role. Get on it, Tarantino.
---
11. Mia Wallace, Pulp Fiction
She's the wife of Marsellus Wallace, one of the most power crime bosses in the city, so she's definitely seen a thing or two that would ruin most of our lives forever. She's stylized and sleek, but the only thing preventing her from being higher on the list is that, on her first night out, she overdosed and almost died. Other than her endurance, she's one of the most iconic characters Tarantino has ever imagined. Plus, she knows her way around a corny joke.
10. Honey Bunny/Yolanda, Pulp Fiction
If there's one woman in Pulp Fiction who knows what she wants and will do anything to get it, it's definitely Yolanda, aka Honey Bunny. She may be insane, but that seems to only fuel her as she pokes and prods at Pumpkin's psyche, driving him towards acts of spontaneous danger with no regard to consequences or repercussions. She's a human wrecking ball.
---
11. Zoe Bell, Death Proof
Not only does the stuntwoman, who's playing herself in the role, strap herself to the front of a muscle car and let her friends drive as erratic as possible, she does it for no other reason than because it'll be fun. She endures a horrendous car crash that would have left most others maimed, then finds the strength to, not just survive it, but to hunt down the one responsible for it and beat him to death.

---
8. Santanico Pandemonium, From Dusk Till Dawn
No one could have played this role better than the snake-wrapped Salma Hayek. She delivered the perfect amount of sexuality, mystery, and intimidation that turned what could have been a small, forgettable role into an unforgettable scene. She goes from giving Richard a shot out of her mouth one minute, to devouring souls the next.
---
7. O-Ren Ishii, Kill Bill Vol. 1
O-Ren worked her way up from a poor girl whose parents were murdered to the leader of one of Tokyo's biggest crime organizations. She single-handedly exacted revenge on Matsumoto, her mother and father's killer, by executing him herself. On top of all that she led the Crazy 88, was one of the deadliest assassins in the world, and gave Beatrix one of the most epic battles in the Kill Bill duology.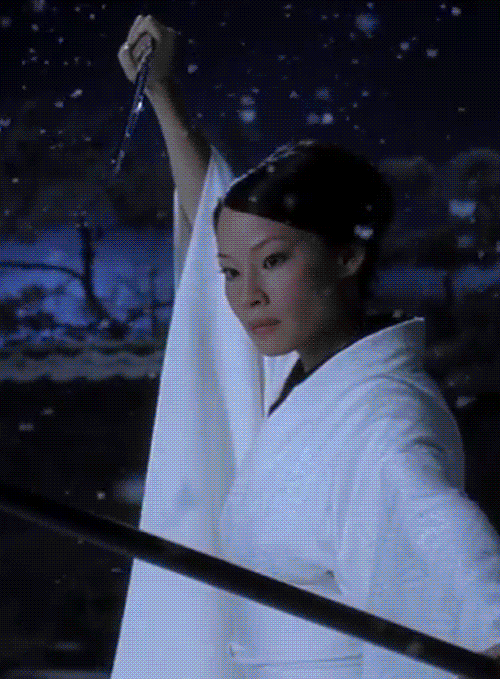 ---
6. Mallory Knox, Natural Born Killers
Unlike most female characters that are partnered with a psychotic killer, Mallory isn't innocent, a victim, or simply someone along for the ride; she's just as dangerous as Micky, if not more sinister because of her seemingly harmless demeanor. She was probably the first serial killer you wanted to dress up as for Halloween.
---
5. Gogo Yubari, Kill Bill Vol. 1
Do you think Tarantino had any idea how much Gogo was going to steal the show in Kill Bill Vol. 1? Her battle with Beatrix was one of the most exciting ones in the film simply because you felt like she had finally met a foe that matched her in talent and skill. Unfortunately she didn't last long, but if Tarantino ever decides to do a spinoff film about Gogo's life, no one would be complaining.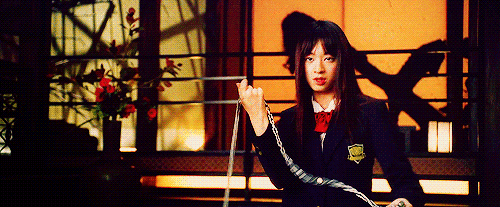 ---
4. Elle Driver, Kill Bill Vol. 1 & 2
What made Elle so terrifying is that she possessed all the knowledge and training that Beatrix had obtained, as well as a Hanzo sword, but the difference with Elle is that she seemingly had no conscious and was willing to color outside the lines to reach her goal, while Beatrix was still governed by her morals and honor. Since, technically, we never saw Elle die, there's still hope for her to return if the constantly rumored Kill Bill Vol. 3 ever comes to fruition.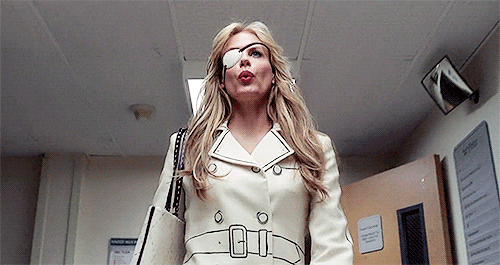 ---
3. Jackie Brown, Jackie Brown
The most impressive part of Pam Grier's amazing comeback performance is that, out of all of her legendary roles, this may be her most iconic. The poise and charisma that Grier exudes every time she appears onscreen feels almost tangible. This was a much more subdued film for Tarantino, but Jackie Brown is one of the sharpest characters he's ever penned.
---
2. Shosanna, Inglorious Basterds
After watching her family be brutally murdered by the Nazis and barely escaping with her life, Shosanna refused to become a victim and slowly planned out a path to revenge. Not only did she get justice for her family, she brought down the entire Nazi party. She locked in Hitler and their leadership, then burned it to the ground as they were forced to stare at a giant projection of her face, laughing, knowing a single Jewish woman was responsible for their demise.

---
1. Beatrix Kiddo aka The Bride, Kill Bill: Vol. 1 & Vol. 2
Beatrix is arguably the most iconic character in the Tarantino filmography, and rightfully so. If you need further evidence why she'd be considered at the top spot, simply look back at the number of fantastic characters on the list she battled against in Kill Bill Vol. 1 & 2. But what made her so great was that she was a polished killing machine in one instance, and a loving mother in the next. Her ability to compartmentalize her life and turn on assassin mode when necessary makes her the most cunning and dangerous of all. The scariest foes are the ones you trust until it's too late.
---
Catch Pulp Fiction on IFC this Saturday 4:30p.

video player loading
.
.
.