First Pixels Trailer Proves Pac-Man and Donkey Kong Are Total Jerks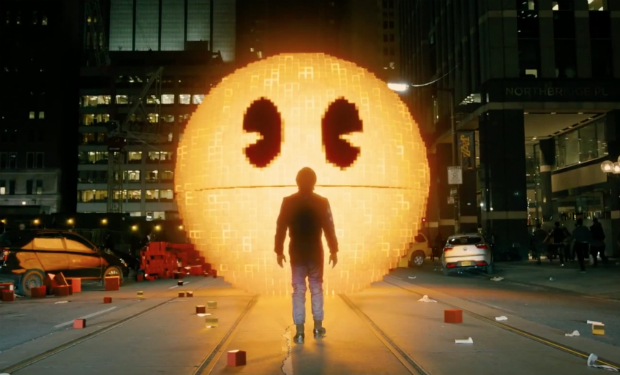 Posted by Nick Romano on
Pac-Man isn't the lovable ball of happiness we think he is. The classic arcade game character is nothing but a heartless menace who'd sooner chew off the hand of his own father than perform a good deed. That's essentially what happens in the first Pixels trailer. Classic arcade games, like Donkey Kong and Space Invaders, come to life — but not in a fun, happy-go-lucky sort of way like in Wreck-It Ralph.
Our first look at footage from this upcoming film lays out the stakes. Way back when (the early '80s to be exact), we blasted a time capsule into space in the hopes that it would reach alien life and inform them about our culture. Unfortunately, they saw the video games of the time as a declaration of war and have decided that the only course of action is to launch a full-scale attack on Earth…with what they think is our own weapons. Enter Pac-Man barreling through the streets and chomping everything in his path into bits of pixelated nothingness.
In addition to Pac-Man, there's Mr. Donkey Kong raining explosive barrels down on humanity, as those pesky Space Invaders swarm the Earth with their fool-proof means of evasion: step down, turn left. Based on earlier posters that were released prior to the trailer, we know that we'll also be seeing the likes of Galaga and Snake, both of which are giving our wrists PTSD from all those hours spent at the arcade.
Frozen funny man (remember Olaf?) Josh Gad and Liv Tyler round out the human cast of Pixels with, yes, Adam Sandler, who you either love or love to hate — there's just no in-between with him. But it also features Tyrion Lannister sporting the most badass mullet we've ever seen. We don't know about you, but there's no one we'd rather have in a bar fight than Peter Dinklage doing is best Dog the Bounty Hunter impersonation.