Norm Macdonald Helps Himself to a Piece of Letterman History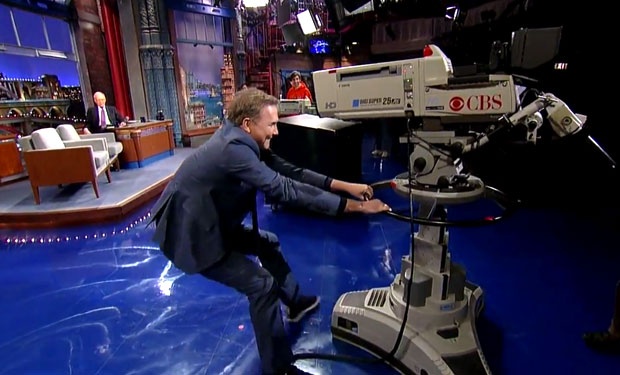 Posted by Nick Romano on
We're all torn up about David Letterman's upcoming retirement as longtime host of The Late Show, but Norm Macdonald is one of the luckier SOBs who got to take home a piece of history from the late-night talk show. The lucky bastard. Macdonald popped up as a guest on The Late Show the other night, and Letterman let him have something from the set, whatever he wanted. Since the comedian is a "go big or go home" sorta guy, he naturally started wheeling one of the host's cameras off stage.
This could very well prove to be the last time we see Macdonald on Letterman…you know, before it stops being Letterman and becomes Late Night with Stephen Colbert. So in case he can't make it back to the talk show anytime in the near future, he wanted to take something that would remind him of all the fond memories. And what better set piece to take than the one thing that actually records all of these fond memories?
Macdonald has been a frequent guest of Letterman's, having made appearances all throughout the host's run. With only 12 episodes left, it didn't seem like he would return before his buddy made his departure. Still, was the camera the right choice? How about one of the chairs? That way, he could keep it at home, replay audio clips of Letterman's interview questions in the background, and pretend like he's back as a guest long after the host's retirement.