The Lost Roles of Brad Pitt: 10 Movies the 'Inglourious Basterd' Almost Starred In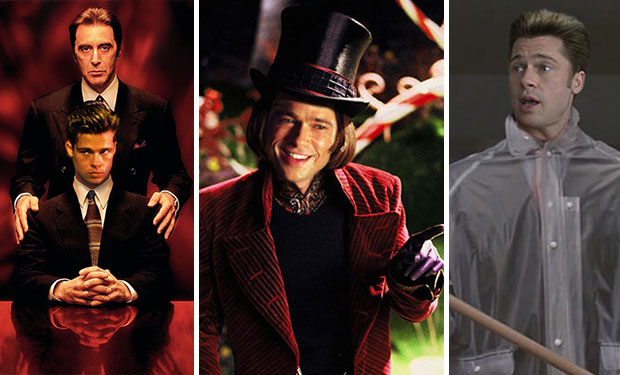 Posted by Nick Romano on
Before Brad Pitt became a total DILF that the Internet loves, the 51-year-old actor was a Hollywood mainstay at an early age. But there were a lot of films that almost got a touch of Pitt.
While he famously appeared in films like Fight Club, Se7en and Interview with the Vampire, he was also offered other famous roles and was auditioning for even more. Whatever the reason, whether it was because he didn't earn the filmmakers' blessings or he turned them down for greener pastures, these films just didn't work out for Pitt. But that hasn't stopped us from imagining what the following movies would look like with Brad in the lead, complete with original posters by Kristy Puchko.
10. Brian McCaffrey, Backdraft
Along with Keanu Reeves and Robert Downey Jr., Brad Pitt auditioned for the role of Brian McCaffrey in Backdraft. The part eventually went to William Baldwin because he looked so much like Kurt Russell, who was playing the character's brother. We're sure Pitt would've filled out that firefighter suit as nicely as Baldwin, though.
---
9. Will Freeman, About a Boy
Of all the roles Pitt actually turned down, he gave one of the oddest excuses for About A Boy. He passed on the role of Will Freeman, a character eventually played by Hugh Grant, because he thought it was too implausible that such an attractive man would need to pick up women by pretending to be a single father. We guess if you look like Pitt, the world just throws itself at your feet.
---
8. Russell Hammond, Almost Famous
Speaking of odd excuses — Can you imagine what Almost Famous would look like if a young Pitt sported a mustache and tried to jump off suburban rooftops while high on drugs? That's what almost happened. The part of Russell Hammond was originally written for the Inglourious Basterd himself. Pitt even worked with Cameron Crowe for a while before saying, "I just don't get it enough to do it." And then he dropped out.
---
7. Patrick Bateman, American Psycho
Better question: who wasn't offered the lead role in American Psycho before Christian Bale landed the gig? Johnny Depp was the first, and then came Pitt. But after he dropped out, Edward Norton, Leonardo DiCaprio and Ewan McGregor were all consequently offered it and they all turned it down.
---
6. Jason Bourne, The Bourne Identity
If you can remember far back enough — we know, the early '00s is a stretch — Pitt was announced in the role of Jason Bourne in The Bourne Identity. Due to scheduling conflicts with his other spy movie, Spy Game, he dropped out, paving the way for Matt Damon to swoop in. Spy Game was a great movie, but Pitt could've had his own action franchise!
---
5. Willy Wonka, Charlie and the Chocolate Factory
Before Johnny Depp added yet another fantastical and heavily costumed role to his resume with the bumbling eccentric Willy Wonka, Warner Bros. considered a number of actors for Tim Burton's Charlie and the Chocolate Factory. Among them were Michael Keaton, Will Smith, Jim Carrey and — you guessed it — Brad Pitt. It always seemed like Burton was going to enlist Depp, but we would've loved to have seen Pitt in this off-the-wall role.
---
4. Apollo 13
If given the opportunity, would you have chosen a lead role in Se7en over a lead role in Apollo 13? Both are classics and Pitt had to make the choice. He was offered one of the leading roles in the Tom Hanks film, but turned it down to star opposite Morgan Freeman in one of the greatest crime movies of all time.
---
3. J.D., Heathers
Back before Brad Pitt was Brad Pitt, he auditioned for a leading role in a little film called Heathers. He didn't get the part, though, because the producers thought he looked too nice for what the character called for. Apparently, Christian Slater looked like he could kill off his classmates.
---
2. Kevin Lomax, The Devil's Advocate
Pitt was originally attached to the film as the sleazy defense attorney, now made famous by Keanu Reeves. This was back when Joel Schumacher of Batman Forever and The Lost Boys was at the helm. When Taylor Hackford replaced him, Pitt was out and Reeves was in. Much like the Heathers producers thought, Pitt was probably too nice for the job anyway.
---
1. The Departed
Remember when Brad Pitt and Jennifer Aniston were a thing? Talk about a #Throwback! Aside from the romance, they started the Plan B production company together, which had the rights to the movie Internal Affairs. Pitt envisioned the movie as a remake with him and his buddy Tom Cruise in the leading roles. However, the final result was The Departed with Leonardo DiCaprio and Matt Damon.
---
video player loading
.
.
.