How Fletch Created the Modern Hipster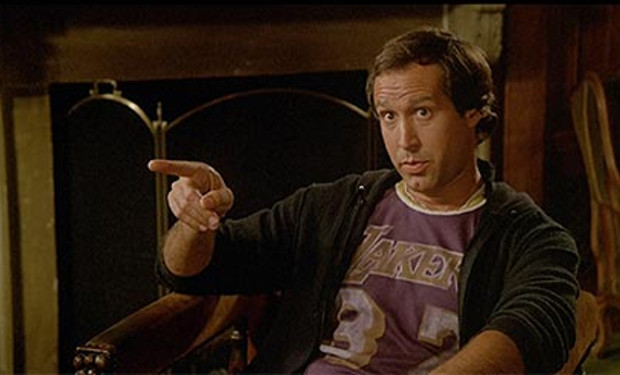 Posted by Brian Steele on
You can take your Stallone and Schwarzenegger — when I think of what real manhood looks like, all I picture is the dimpled chin of one Irwin M. Fletcher. For children of the '80s, no one defined cool quite like Fletch. He just didn't give a damn, even if it repeatedly almost got him killed.
Smug. Sarcastic. Works his own hours, often in ratty clothes. You can almost trace an entire generation of slackers deciding who they wanted to be when they grew up the minute Fletch hit the screen. He's like the Big Bang of disaffected hipsters everywhere. Here are just a few ways that Fletch F. Fletch himself helped create the modern hipster.
"Is Everything a Joke to You?"
Nothing is ever so dire that it can't be answered with a joke. Need gloves for a murder? Just tell the guy you lease them, "with an option to buy." About to be shot, remind the killer he's "liable to lose a lot of those humanitarian awards." If you take nothing seriously, life will never become serious.
---
Procrastination Can Be an Art Form
When one looks closely, it quickly becomes clear that Fletch is a man who will do anything to avoid doing his job. Camped out on a high stakes assignment for two weeks, the minute something else comes up, he drops everything and runs. Sure, making a quick $50,000 is better than wasting time on Facebook, but that's just what separates Fletch's procrastination from our own.
---
Live the Lie
If Fletch taught us anything, it's that if you lie enough, your whole life can become a wacky adventure. There's no place you can't go, no one you can't be, if you're willing to fib like a sociopath, and buy 49 cent novelty teeth (or an unfortunately dated afro wig) to back it up. Just ask Brian Williams.
---
Life's an Inside Joke With Yourself
If you're not amused, no one else will be. Sure, the likelihood your name is Mr. Babar, John Cock…tos…ton or Mr. Poon isn't great, and will probably give you away, but if you can't keep things light, what's the point in succeeding? Fletch put narcissism on the map before Instagram was a twinkle in Donkey Kong's eye.
---
Dress For the Job You Want
If you can't do your job in the clothes you slept in last night, then maybe your job isn't worth doing. Who am I, my father? Whether it's a tattered Lakers jersey, or a Hawaiian shirt revealing just enough chest hair, Fletch was light years ahead of us telecommuters, putting in a hard days work without ever putting on pants. Fletch makes it clear that keeping comfortable is the most essential part of your job. Doing the work comes third, after endlessly hitting on every woman you come in contact with.
---
Get Out on Top
The one thing about being flip with everyone and everything you come across is that it sometimes doesn't age well. You have to keep a lot of balls in the air, or the world starts to notice maybe you're not as clever as you think you are. As a generation of hipsters finally grow up, we should all remember the lessons of Fletch Lives. Know when to let it go.