The Cast of Dazed and Confused: Where Are They Now?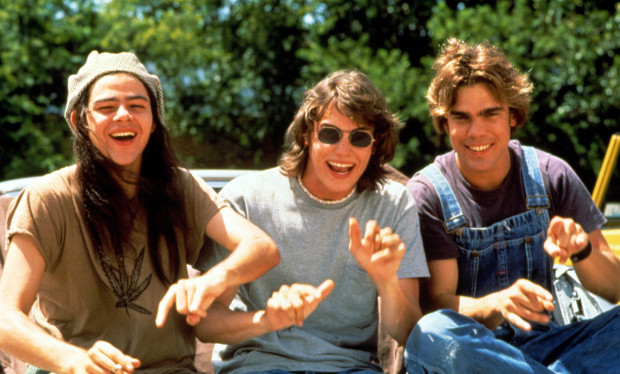 Posted by Brian Steele on
For people of a certain age, Dazed and Confused was as real to them as their own high school experience. Set in 1976, it told a timeless coming-of-age story that would forever define what it meant to be a teenager.
Now, 22 years later, its grown from a mirror on our lives to a nostalgic look back at a simpler time, when your parents going out of town meant freedom, and your dream of becoming a dancer was still alive. Still, if we ever start referring to those as the best years of our lives, remind us to kill ourselves. Also, it introduced audiences to actors like Ben Affleck, Milla Jovovich and the McConaissance himself. Let's see where the cast of Dazed and Confused are today, shall we?
Jason London (Randall "Pink" Floyd)
Then: Jason London starred as the soulful quarterback Randall "Pink" Floyd.
Now: Today Jason London is trying to get his life back on track, after a 2013 arrest for disorderly conduct and assault. In recent years he's starred in films like 51 and Snow Beast.
---
Anthony Rapp (Tony)
Then: Anthony Rapp starred as good-natured nerd Tony Olson.
Now: Today Rapp is a Broadway star, after originating the role of documentary filmmaker Mark in the smash hit musical Rent. (He recently reteamed with fellow Rent alum Idina Menzel in the hit musical If/Then.) On the small screen, he's popped up on shows like Kidnapped and Psych.
---
Wiley Wiggins (Mitch)
Then: Wiley Wiggins starred as freshman and nose pinching aficionado Mitch Kramer.
Now: Today Wiggins is a videogame designer, who occasionally pops up in passion project films like 2013's Computer Chess. He's also the organizer behind Austin's Fantastic Arcade.
---
Joey Lauren Adams (Simone)
Then: Joey Lauren Adams starred as the girlfriend every guy wanted, Simone Kerr.
Now: Joey Lauren Adams has slowed down, after a '90s heyday that peaked with Chasing Amy. She still works here and there, most recently on ABC Family's Switched at Birth.
---
Milla Jovovich (Michelle)
Then: Milla Jovovich starred as mute hippie dream girl Michelle Burroughs.
Now: Who knew Milla Jovovich would be the first person you want to call during a zombie outbreak? After a successful career as a model, she broke out as an action star, carrying five entries in the Resident Evil series, with a final outing on the way.
---
Shawn Andrews (Kevin)
Then: Shawn Andrews starred as the scheming Kevin Pickford, who in typical high school movie form just wanted to throw a rager while his parents were away.
Now: Andrews has turned up in smaller films like 2008's Fix where he appeared opposite Olivia Wilde. He is perhaps most famous for marrying Dazed co-star Milla Jovovich, only to have the marriage annulled two months later.
---
Rory Cochrane (Slater)
Then: Rory Cochrane starred as Ron Slater, the loveable pontificating stoner we all went to high school with.
Now: Today Cochrane is a staple on our televisions, recently recurring on CSI: Miami and 24. His old Dazed co-star Ben Affleck also brought him back to the silver screen in the Oscar-wining film Argo, and horror fans might have noticed him in Oculus.
---
Adam Goldberg (Mike)
Then: Adam Goldberg starred as neurotic nerd Mike Newhouse.
Now: Today Goldberg is a go-to character actor, recently standing out as hired gun Mr. Numbers on FX's acclaimed series Fargo.
---
Marissa Ribisi (Cynthia)
Then: Marissa Ribisi starred as geeky third wheel Cynthia Dunn.
Now: Today the sister of Giovanni Ribisi is married to rock star Beck, spending more time raising their two kids than focusing on acting.
---
Cole Hauser (Benny)
Then: Cole Hauser starred as bully Benny O'Donnell.
Now: Cole Hauser is a true workman actor, appearing in everything from studio movies like Olympus Has Fallen and Transcendence to bizarre cash grabs like Jarhead 2: Field of Fire.
---
Ben Affleck (Fred O'Bannion)
Then: Ben Affleck starred as a freshman's worst nightmare, Fred O'Bannion.
Now: Today Ben Affleck is Batman. After a brief exile from Hollywood's good graces, he has burst back on the scene as an Oscar-wining director, and the star of last year's hit film Gone Girl.
---
Parker Posey (Darla)
Then: Parker Posey starred as the queen bee of Lee High School who had a fondness for giving freshmen spontaneous "air raids."
Now: Today Parker Posey is taking a victory lap as the "Queen of Indies," having appeared in films like Best in Show and Highland Park. Most recently she turned up on Portlandia as a style maven.
---
Matthew McConaughey (David Wooderson)
Then: Matthew McConaughey starred as every mother's worst nightmare, David Wooderson. (Watch his audition for Dazed and Confused here.)
Now: In case you've been in a foggy haze since 1993, you're aware that Matthew McConaughey is one of the biggest stars in the world. He can be seen traveling through outer space or driving a Lincoln into your dreams. Either way, his quasi-philosophical stoner vibe has remained frozen in amber, after first being perfected in Dazed and Confused. (He brought Wooderson back for a 2012 Butch Walter music video.) When we watch Wooderson these days, we have to marvel at how we may get older, but he stays the same age.
---
Sasha Jenson (Don Dawson)
Then: Sasha Jenson starred as the floater who fit in with the jocks and the stoners, Don Dawson.
Now: Today Sasha Jenson is out there somewhere, living a quieter life. He occasional pops up in random TV and film roles, but for the most part has disappeared. Sasha, if you're out there, let us know how you're doing. In the meantime, here's his audition tape for Dazed and Confused:
---
Richard Linklater
Then: Dazed and Confused was Linklater's second film, following his Sundance film festival breakthrough Slacker.
Now: Linklater is one of the most acclaimed and prolific filmakers working today, thanks to the Before Sunrise/Sunset/Midnight series and the recent awards season favorite Boyhood.