10 Big Screen Comedies That Spawned Musicals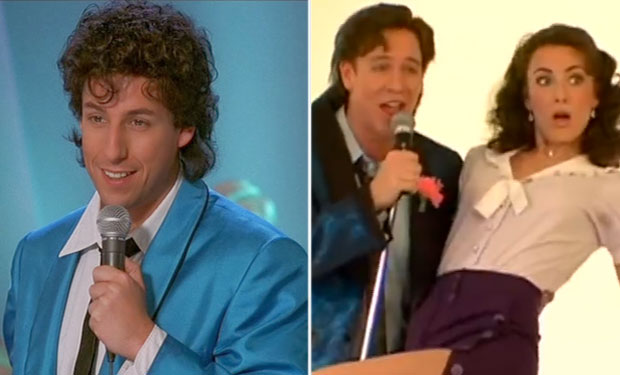 Posted by Nick Romano on
While there has always been a rich tradition of adapting feature films into Broadway spectaculars, it seems like that's all The Great White Way is doing nowadays. (We even had a Spider-Man musical! Though it wasn't really supposed to be a full-on comedy, the premise was laughable.) But there have been a ton of uproarious films that have found success in musical form. Take Laura Benanti in The Wedding Singer, for example. She wowed audiences on stage as Julia, the character made famous by Drew Barrymore in the Adam Sandler-led film. Benanti is now taking that success to the New York Spring Spectacular, which is a unique musical event featuring Dancing With the Stars' Derek Hough and the Rockettes. (Get tickets now!)
video player loading
.
.
.
There have been a number of hugely successful musical adaptations that have come before and after, however, such as The Producers and even Evil Dead. But comedies have always proved to be the best source material. Here's a look at 10 funny films that made their way to the stage.
10. The Wedding Singer
Some films were practically made for musical renditions, and The Wedding Singer is one of them. Aside from the unique brand of humor that fits so well with the stage, there's a lot of great music moments between Sandler and Barrymore worthy of a more grand production. Unfortunately, the show only ran for a few months in 2006. Maybe they should've gone the jukebox musical route and included all the '80s hits from the movie.
---
9. Legally Blonde
The idea of setting the hit Reese Witherspoon comedy to music was a good idea, as the Broadway adaptation of a blonde bimbo who goes off to study law at Harvard was a modest success with a substantial fan following. It also introduced Broadway audiences to Laura Bell Bundy and inspired a reality show competition to find a performer to take over the role of Elle Woods.
---
8. Shrek
Shrek, Donkey, Fiona and the gang came to the Broadway stage, and they brought songs like "Donkey Pot Pie" and "Freak Flag." Fans who loved the original animated film starring Mike Meyers, Eddie Murphy and Cameron Diaz probably got a lot of laughs out of the musical, especially during that annoyingly catchy and widely recognized "Welcome to Duloc" number.
---
7. Monty Python and the Holy Grail
"We eat ham, and jam, and Spam a lot." So goes the famous line from Monty Python and the Holy Grail, and so goes the name of its successful musical adaptation, Spamalot. Playwright and lyricist Eric Idle, and composers John Du Prez and Neil Innes road their invisible horses all the way to three Tony Awards.
---
6. Sister Act
It was about time that Sister Act got the stage treatment, and it became a reality in 2006. Even Whoopi Goldberg had a hand in it, playing Mother Superior in one of the production's runs. If there was ever a film comedy suited for a musical interpretation, it was this story of a lounge singer hiding out in a convent.
5. Bring It On
A musical about the movie where Kirsten Dunst's cheerleading squad battled a rival school for all-time cheerleading glory? Yeah, it kinda sounds ridiculous, but the show found some success when it was adapted a few years back. Hey, the movie already had peppy cheer routines and an over-the-top choreographer in Sparky Polastri. The musical basically writes itself.
---
4. Elf
If you're expecting the Elf musical to be anything like the Will Ferrell film, you're…half right. The story is the same — a human raised as an elf seeks out his birth family — but the musical has far more jazz hands and enough Christmas cheer to make even Buddy barf. Just listen:
---
3. Kinky Boots
Cyndi Lauper and Harvey Fierstein put the kink back in Broadway with the Kinky Boots musical. The 2005 film featured future Oscar winner Chiwetel Ejiofor as drag queen Lola, who helps an uptight shoe factory owner keep his business alive and kicking. While the musical used the same storyline, it strutted to the rhythm of its own drum and earned two major Tony wins in the process.
---
2. School of Rock
Jack Black's popular film about a rocker posing as a substitute teacher  was bound to hit the stage. The production hasn't debuted just yet — you're going to have to wait until December 6th for that — but kids from all over have been lining up to audition for the stage rendition (which has a book by the creator of Downton Abbey) that will surely whip up some ticket sales. Hear them auditioning below:
---
1. Young Frankenstein
Did you ever think that Dr. Frankenstein's roll in the hay with Inga from Young Frankenstein would've worked much better as a musical number? Well, that actually came to be. Sutton Foster and Christopher Fitzgerald starred in the Young Frankenstein musical, Mel Brooks' follow-up to The Producers.
---