Bill Murray Makes a Glorious Entrance on Kimmel, Complete with Mariachi Band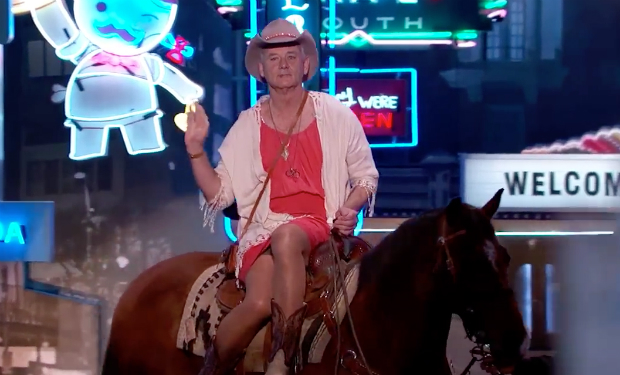 Posted by Nick Romano on
Bill Murray is going through some phase right now, and we can't tear our eyes away from it. We've seen him photobomb a couple's wedding photo, we've seen him surprise a attendees at a minor league baseball game, and we've even seen him crash a birthday party. Now, he has hit the Jimmy Kimmel Live stage with one of the grandest entrances of all time.
Horse? Check. Mariachi band? Check. Cute Texas-inspired outfit one might find in the Juniors section of Marshall's? Check. Shaved legs? Check. It's called the Bill Murray-achi, and it's spectacular. As Kimmel announced Murray to the stage, "He's a one-man festival on his own, and he's with us for no other reason than to bring joy to our lives."
The late-night host took his talk show to Austin, and the Ghostbusters star surprised audience members with this celebratory to-do. This man is pushing 64 and he's still too cool for school. Can someone GIF his Paris Hilton IDGAF demeanor? Oh, wait! We already did.
"I'm usually jeans and a t-shirt," joked Murray, as he sat down for a chat with Kimmel. Please, Murray, keep this look always. In fact, someone — perhaps Fred Armisen on Portlandia (hint, hint) — should transform this character into a sketch, and then a show based on that sketch, and then a movie based on that show. We imagine her name is something like Isabella, and her and her family became famous for their appearance on that Christmas light reality competition show called The Great Christmas Light Fight. Her cowgirl boots are Dolce & Gabanna…actually DSquared2. (Dolce is too controversial now.) And her jewelry is vintage. Someone make this happen already. We're makin' magic, people!
---
MORE BILL MURRAY
– 8 (More) Reasons to Worship Bill Murray
– 12 Reasons Why Bill Murray's Birthday Should Be a National Holiday
– 10 Essential Bill Murray Comedies