8 Hilarious Fred Armisen Cameos That Brightened Our Day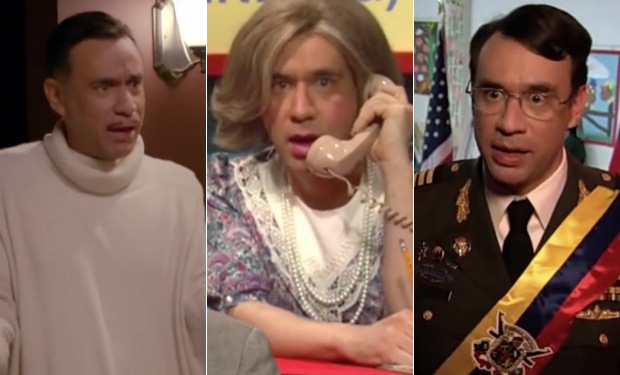 Posted by Nick Romano on
Fred Armisen is a chameleon of comedy, seamlessly blending into whichever environment he's placed. But once you spot him, he's a delight to behold. The SNL veteran and star of IFC's Portlandia recently co-hosted the Film Independent Spirit Awards with Frozen star Kristen Bell, but this wouldn't be the first he's randomly popped up to liven things up. Though most of our favorite moments of his over the years have been in brief cameo appearances, they most often steal the show. Take a look at some of our favorite Fred Armisen cameos below.
8. Parks and Recreation
Armisen has known his SNL buddy Amy Poehler for a while, so of course he was eventually going to pop up on her Office-style comedy series. The perfect time came when he played a representative of the Venezuelan parks department on a trip to America with his colleagues and that one intern nobody should pay attention to. We could listen all day to him spout off about how the home of Chavez is the best.
---
7. Anchorman
Anchorman is a comedy classic (though we can't really say the same thing of the sequel), and we have Armisen in part to thank for that. After all, he's the one who made Ron Burgundy stand up and play some "y'azz flute," and later commanded to eat a pile of dog crap.
---
6. 30 Rock
Armisen had already appeared on 30 Rock in a more substantial cameo role — Liz Lemon's next-door neighbor Raheem, who she turns into Homeland Security for being a suspected terrorist. But he popped up once again for a split second during one of the series' live episodes, and it was one of the most glorious split seconds of all time.
---
5. Kate Pierson's "Mister Sister" Music Video
By now you should know that Armisen loves to jam out on his guitar, but his appearance in Kate Pierson's music video for "Mister Sister" was quite unexpected. Actually, we thought it was gonna turn into a comedy sketch at some point, but Armisen kept on playing. Seeing the comic play guitar in an environment outside of Seth Meyer's Late Night show is like watching a dog strut around on its hind legs: equal parts thrilling and mesmerizing.
---
4. Brooklyn Nine-Nine
We mainly adore Mlepnos because he reminds us so much of Family Guy's Consuela ("Mister Superman no here") but Armisen puts his own spin on this man from Leirkrakeegovnian. And, just as we can't get enough of the following interaction, Andy Samberg just can't get enough of his oddly catchy music.
---
3. Broad City
If anyone else had played David, the adult baby, on Broad City, he might've actually come across as creepy. But Armisen's signature wide-eyed stare just sends us into a fit of giggles, much like the one he experienced when the girls destroyed his apartment. He's just a baby, ladies — a baby that tries to camouflage himself within a coat rack.
---
2. Funny or Die's Intervention Spoof
What's more entertaining than watching Intervention? Well, a lot of things, but Armisen's Funny or Die sketch about an intervention for his Intervention addiction is one of them. "I had no idea you could get drunk on mouthwash…Just get one big bottle of wine. It's just cheaper." And the fact that it references the "I'm walking on sunshine" episode is just more brownie points, 'cause it's the best episode.
---
1. Bob's Burgers
Armisen reprised some of his musician skills on Bob's Burgers as Tommy, the health inspector who pressures Bob into letting him perform some of his…how should we say…works in progress at his restaurant.