6 Movies That Are Secretly About Vietnam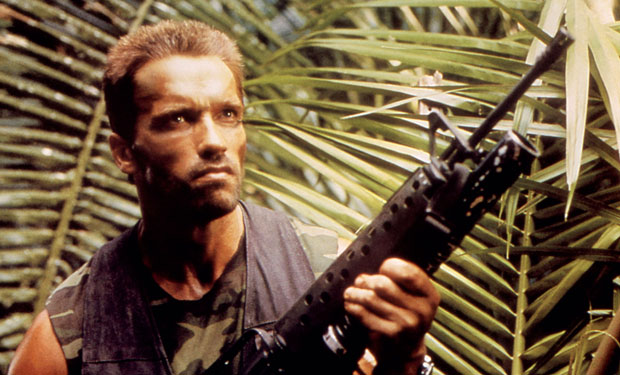 Posted by FIX Staff on
By Kevin Maher
Movies are just one way America deals with the stuff it can't quite deal with. The Vietnam war is one of the most difficult periods in America's history. You can tell because it has been touched upon in so many different kinds of movies: historic drama (Platoon), revenge fantasy (Missing in Action), family-friendly revisionism (Disney's Operation Dumbo Drop), and exploitation films about the "troubled Vietnam vet" (Billy Jack).
Those examples address the war explicitly, while other movies deal with the scars of war through subtext. (The same way the 2014 Godzilla isn't about 9/11 but it's TOTALLY about 9/11.)
Here are six movies that address the Vietnam war in their own subtle (and not-so-subtle) ways.
6. The Bad News Bears (1976)
At the risk of sounding like a paranoid college professor: The Bad News Bears is about Vietnam. This sports comedy doesn't end with the rag-tag misfits winning the big game; nope, they lose. The movie is about coming to terms with defeat.
After the Bears blow the championship, Coach Buttermaker hands out beers to the kids, saying, "You should be damn proud of yourselves."
During the closing ceremony even the obnoxious winning team admits that the Bears "got guts, all of ya."
Our heroes defiantly reject pity, throwing their trophy into the dirt – just like the Vietnam Vets who discarded their medals when they came home. Angry shortstop Tanner Boyle tells the Yankees they can take their apology and their trophy and shove it "straight up yer ass!" Scrawny right fielder Timmy Lupus shouts, "Just wait 'til next year!"
Opera music swells as a dramatic closing shot of the American flag dissolves into a black-and-white photo of the Bears standing together like a platoon (and they're just a few years younger than the boys who'd been sent to Vietnam).
The moral for the Bears (and for 1976 America) is: there's no shame in coming in 2nd. Also, apparently in 1976 it was okay for a grown man to give kids beer.
---
5. Predator (1987)
Set in the fictional country Val Verde (and devoid of any real-world political baggage) Predator sends a group of men into the jungle to fight an invisible enemy. Sound familiar? How about that photo of Jesse Ventura holding a machine gun in an exploding rain forest – what does that remind you of? (Sorry to sound like Walter from The Big Lebowski, but Predator is about Vietnam.)
Arnold Schwarzenegger's science-fiction film was released the same summer as Full Metal Jacket and Hamburger Hill, a big year for Vietnam movies.
In Predator, the soldiers quickly discover that they were dispatched on false pretenses—echoing the sentiment that Americans were lied to by the government. (See also: the mayor who won't close the beaches in Jaws.)
When the mission becomes hopeless, all the heroes want is to "get to da choppa" (i.e. the last helicopter out of Saigon).
In one scene, Dutch (Arnold) tells Dillon (Carl Weathers), "You can't win this." (Um, yeah, you might even call it an "unwinnable war.") Dillon replies, "Maybe I can get even"—thereby making Predator another '80s war-revenge movie where America gets a do-over. This go-back-and-win fantasy is seen in Missing in Action (1984), Rambo: First Blood Part II (1985) and even a two-part episode of Magnum, P.I. (1985).
By sending movie heroes back to Vietnam (or Val Verde standing in as Vietnam) America gets a second chance; an opportunity to "win this time," without being held back by two-faced bureaucrats and shady politicians.
When Arnold defeats the Predator and boards the chopper, er, choppa to go home, his victory provides some closure for the 1987 American audiences.
Bonus points: When Arnold goes into battle with the Predator, his mud-caked face looks just like Martin Sheen's in Apocalypse Now.
---
4. King Kong (1976)
Stay with me on this.
The '76 King Kong remake has little to do with war, until its grand finale. Just like in the original, Kong stands on the roof of a skyscraper – but instead of fighting 1930s bi-planes, he's met by flamethrowers and helicopters (two of the most iconic symbols of the Vietnam war).
A Gatling gun fires off the fatal rounds, while long-haired beardo Jeff Bridges screams in protest (as 1960s long-haired beardos were known to do).
Rumor has it, the last line of the film was originally, "Twas the military industrial complex and anti-Communism that killed the beast…" (I'm kidding, I'm kidding!)
But seriously, you have to admit it's a pretty Nam'-ish ending.
3. Rocky (1976)
The Rambo movies famously show Stallone returning to Vietnam to win the war on his own terms, but Rocky is closer to the spirit of The Bad News Bears.

The film's down-and-out protagonist reflects the so-called "malaise" in 1970s America, something President Jimmy Carter would later call a "crisis of confidence."
Rocky Balboa's most inspiring dialogue seems to address more than boxing:
Life's not about how hard of a hit you can give..it's about how many you can take, and still keep moving forward.
Whoa. It's as if he's describing America overcoming a 19-year military conflict in Southeast Asia!
At the end of the film, Rocky doesn't win his big fight, but that's almost beside the point. He never gave up. Rocky is a hero for going the distance. To paraphrase The Dark Knight — a movie that, had it come out in the 1970s, would've totally been about Vietnam — he's not the hero America deserves but the hero we need right now. ("Now" being one year after the end of a war that devastated the country.)
---
2. The Texas Chain Saw Massacre (1974)
Most film scholars and snarky blogs will focus on the chainsaw as a metaphorical penis. That's fine, but I'm gonna take a different angle here.
Watch almost any grindhouse horror movie from the '70s and you can see why people attribute the graphic violence to the war in Vietnam: the cruelty, the gore, the savagery. Those early Wes Craven and Tobe Hooper movies make the shower scene in Psycho look quaint.
The Texas Chain Saw Massacre captures the terror of Vietnam in the doomed teenagers who find themselves stranded in a frightening foreign wasteland, being chased by maniacs.
At the same time, the movie is about the haves and have-nots: the middle class teenagers represent the college kids who avoided the draft, while the cannibal family are the working-class boys who were shipped across the Pacific and took part in true horror.
Actor Edwin Neal (who played The Hitchhiker) has stated that the filming conditions were so awful that filming the movie was the worst experience of his life, adding, "…and I had been in Vietnam, with people trying to kill me, so I guess that shows how bad it was."
It's hard to NOT see some the Vietnam influence in the movie. 12 years later, The Texas Chainsaw Massacre 2 (1986) introduces Chop-Top, Leatherface's brother who served in Vietnam during the events of the first film. But I'll save that for another pseudo-academic essay blog post that some commenters are bound to hate.
---
1. Fearless Frank (1967)
The final entry in this list is kinda hard to find. (It's also kinda hard to watch. But if you insist, here's a link to stream it on Amazon.)
Philip Kaufman's Fearless Frank is a low-budget parody of TV's Batman – because, yeah, the 1966 Batman wasn't campy enough.
The story unfolds like a comic-strip version of Midnight Cowboy: Jon Voight plays a country boy coming to the big city – but instead of becoming a hooker, he becomes a superhero. (Two sides, same coin – am I right?)
At 77 minutes long, the kitschy humor starts to run thin, which could explain the crazy-ass turn no one saw coming: Fearless Frank, the lead character(!), leaps off a Chicago skyscraper and kills himself. (This isn't some weird dream I had, it just sounds like one.) With Fearless Frank dead, he's replaced by his evil doppelganger "False Frank." This brooding look-alike (who's covered with big scars, a la Frankenstein's Monster) leaves the city and goes back to Frank's home in the country.
In the final scene False Frank boards a rowboat and drifts up the river, an undeniable homage to Apocalypse Now (except that, y'know, Apocalypse Now wouldn't be filmed for another 12 years).
With this bizarre third act, Fearless Frank is less like Midnight Cowboy meets The Caped Crusader and more like Coming Home, a far more acclaimed Jon Voight film that tells the story of a scarred Vietnam Vet's homecoming. The camera holds on Frank's crying face as the narrator offers this somber conclusion:
Everyone was proud of Frank. Ma and Pa were there, too. And although they felt that he had changed, they couldn't tell how… they just drift onward, they do not seem to know where they're going, nor do they care. And no one will ever see them again.
If this superhero story were any more bleak it could be DC's next Zack Snyder-directed blockbuster.
The heavy plot twist makes Fearless Frank more than a one-note parody, but I'm guessing the biting satire might've been what kept it from getting a wide release in 1967. (That and the fact that it's not very good.)
So there you have it, six movies that are secretly about Vietnam. Did we forget any? Let us know in the comments.