5 Modern Mysteries the New X-Files Could Tackle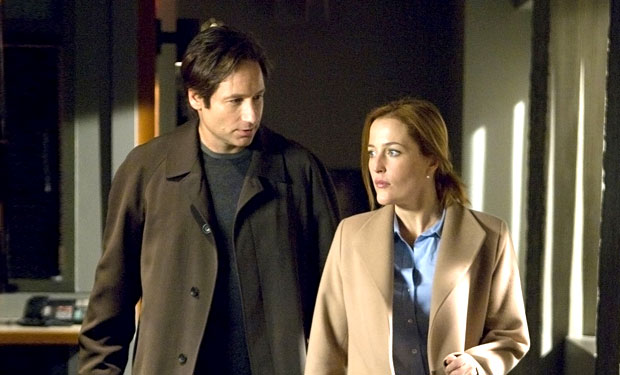 Posted by Mike Schuster on
This week, after months of rumors, the return of the '90s cult series The X-Files was officially confirmed and, like Mulder, we want to believe. Creator Chris Carter and leads David Duchovny and Gillian Anderson are poised to come back for the six-part run and hopefully with them the scores of unforgettable characters like Smoking Man, Frohike, and Doggett. (Okay, maybe not Doggett.)
But airing over 20 years ago, plots to early episodes have begun to show their age. In fact, writer William Gibson recently confessed on Twitter that Carter rejected an episode he pitched because it involved a "haunted website" and Carter feared the audience wouldn't understand what a website is.
Obviously, our resurrected Mulder and Scully will be investigating a far different world than the one in the mid-'90s, and that would call for a more modern collection of mysteries to explore. And in case the writing staff has a little trouble coming up with unexplained phenomena, we'd like to offer a few suggestions.
So blow the dust off that 20-year-old X-Files spec script and change all the Area 51 references to one of the following:
5. What (or who) is behind the Siberian Sinkholes?
North of the Arctic circle in the remote Siberian peninsula of Yamal, a crater roughly 100-feet wide and 115-feet deep appeared after an explosion last summer. Since then, two other massive sinkholes surfaced in northern Russia. Experts have posited everything from shale gas explosions to meteorite strikes as the cause, but nothing's been confirmed. In that case, may we suggest Yeti meth labs?
---
4. What caused the Norwegian Spiral?
In 2009, Norway was treated to an extraordinary light show when a dazzling spiral appeared in the night sky like a vortex into another dimension. Appearing for 2-3 minutes, the startling spectacle spawned dozens of theories even after Russian Ministry of Defense confirmed it was due to a failed missile test. But as thrilling as that explanation still is, we're sure Chris Carter and the X-Files braintrust could come up with something much more interesting like a surface-to-air death ray or wormhole generator.
---
3. Who (or what) concocted the Cicada 3301 puzzles?
Between 2012 and 2014, each time on January 5th, a series of complex and elaborate puzzles appeared in countries around the world and were attributed to the shadowy organization known only as Cicada 3301. Accompanied by a Banksy-esque cicada logo, the nearly unsolvable puzzles were claimed to be a recruitment vehicle for "intelligent individuals" and contained elements from cryptography, mathematics, literature, and philosophy. Even now, the identity of Cicada 3301 remains unknown, with suspects ranging from the CIA to MI6, but perhaps it's just an alien defense force seeking our world's best minds à la The Last Starfighter.
---
2. What's Bloop?
If there's anything that would make X-Files fans lose their minds, it's if the Cthulhu mythos was introduced to its universe — and an ultra-low-frequency deepwater sound known as Bloop would be the perfect conduit. Recorded in 1997 by the U.S. National Oceanic and Atmospheric Administration, Bloop originated in the south Pacific Ocean and was audible for over 3,100 miles. While it resembled the sound of a living creature, it was much, much louder. It's since been attributed to a large underwater icequake, but a Lovecraftian elder god would make for a far more interesting story arc.
---
1. Are the Lone Gunmen somehow connected to the 9/11 attacks?
To call it an "eerie coincidence" would be putting it mildly: In March 2001, the pilot episode of The X-Files spin-off The Lone Gunmen aired and revolved around government agents orchestrating a plot to hijack a plane and fly it into the World Trade Center — six months before the real-life attacks. An unsettling coincidence to be sure, but the goals and methods in the episode mirror modern-day "Inside Job" conspiracy theories almost exactly. The plucky trio managed to thwart the attack in their world, but maybe an exploration into a parallel "What If" scenario could create a very resonate storyline in our post-9/11 reality.