10 Movies That Got Sweet, Sweet Revenge on Critics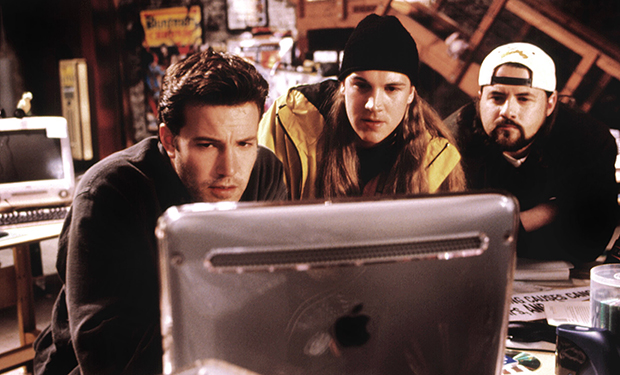 Posted by Mike Schuster on
Bitter, schlubby, and pompous: The classic image of the critic was established long before Jon Lovitz underscored the stereotype in the 1994 animated sitcom of the same name. But whereas the cherubic Jay Sherman was ultimately likable, your average critic is, at best, tolerated by the masses and rated by the similarity to the majority opinion.
But more often than not, they're roundly despised — especially by the artists who put their egos on the line with every word, frame, or brushstroke. So it's no surprise that critics, when they're not being buttered up for a rave review, are sometimes put through the ringer by the very material they're tasked to assess.
Here's a list of instances in movies where critics tasted retribution for their thousands of sneers, digs, and gibes.
10. Gremlins 2
In Joe Dante's maniacally goofier follow-up to his 1984 hit Gremlins, movie critic Leonard Maltin demolishes the fourth wall with a wink as powerful as the Kool-Aid Man. Chiding the "ugly, slimy, mean-spirited" monsters of the original film, Maltin invokes the wrath of said creatures and presumably dies mid-rant — leaving us only to wonder about the parameters and residents of both films' universes.
---
9. They Live
Similar to the Gremlins meta-shoutout, They Live director John Carpenter and slasher compatriot George Romero get called to the blood-stained carpet by Siskel and Ebert analogues, just after they were revealed to be members of the alien race intent on controlling humanity's hearts, minds, and wallets. The brief scene affirms the anti-critic philosophy as the Mutant Siskel complains about sex and violence on screen while sitting beneath the now-legible message "No Independent Thought."
---
8. History of the World: Part 1
The symbiotic relationship between artist and critic was established by the very first paleolithic brush stroke, as evidenced by this scene from Mel Brooks' spoof History of the World: Part 1. Here, a Cro-Magnon Sid Caesar plays the world's first cave painter whose work, in turn, produces the world's first critic. And in typical Brooks fashion, the unfavorable critique is expressed with little to no restraint.
---
7. Godzilla
Summer blockbusters are the bane of the movie critic: mostly hollow, over-budgeted trash with plot holes as big as the CGI leviathans that inhabit them. And nothing exemplifies that description better than the 1998 Godzilla reboot, helmed by the critic's whipping boy Roland Emmerich. With the subtlety of a giant rampaging lizard, Emmerich's movie shot back at critics with a bumbling, thumb-jutting, sweet-scarfing Mayor Ebert (played by virtual lookalike Michael Lerner) and his timid, follically challenged assistant Gene. Oddly enough, neither sees the inside of Godzilla's stomach.
---
6. Lady in the Water
And speaking of filmmakers curbstomped by critics, M. Night Shyamalan — once ballyhooed as the second coming of Hitchcock — has since been reduced to the same breath as Uwe Boll, no thanks to a string of dreadful movies after the mediocre Signs. Already critically bruised from The Village, Shyamalan took his anger out on Bob Balaban, who plays an arrogant and self-assured film critic who meets a bloody end in Lady in the Water. But with that, along with casting himself as an author who will save the world, Shyamalan basically set himself up on a t-ball stand for the rest of his career.
5. Jay and Silent Bob Strike Back
As anyone who's scrolled below a YouTube video could tell you, some of the most vitriolic and hate-filled criticism comes from online commenters who aren't even paid to write it. Such spewers of rage were pummeled (literally) in what could only be a cathartic finale for writer-director Kevin Smith's re-re-re-return to the View Askewniverse. Smith and costar Jason Mewes track down the pubescent armchair critics who badmouthed Jay and Silent Bob on a thinly veiled version of the film blog Ain't It Cool News and beat them senselessly. However, authentic beatdowns or not, there's no stopping Internet critics.
---
4. Theatre of Blood
While Kevin Smith's revenge fantasy dealt with immediate satisfaction, there's no sweeter retribution for an artist than the long cons featured in Vincent Price's deliciously campy Theatre of Blood. In it, the never-not-great Price plays a Shakespearean ham slighted by critics who methodically plans to take his murderous rage out on those who ignored his talents. Self-righteous monologues and tortuous slayings commence, but neither offers the audience as much delight as seeing Price disguise himself as a Disco Stu precursor complete with afro wig and smokey aviators.
---
3. The Devil's Rejects
A lover of all things exploitative, writer-director Rob Zombie isn't so much the puppet master with his characters as he is the creepy kid holding a magnifying glass to an anthill. But the movie critic briefly featured in The Devil's Rejects gets off far, far easier than the rest of the cast — though he doesn't escape without a verbal thrashing. The pontificating Shalit-effigy assists authorities in their investigation of the killer Firefly family, hurling Hollywood factoids like IMDb set to shuffle. But as soon as he disgraces "Elvis Presley the King" in front of country sheriff Wydell (played by the awesome William Forsythe), he gets a furious dressing-down that would throw any critic back on his heels.
---
2. Birdman
Critics are hardly immune to favoritism, prone to awarding accolades to familiar, oft-lauded thespians and sneering at the box office heroes attempting to go highbrow. That elitist opinion is given the perfect voice by actress Lindsay Duncan's Tabitha Dickinson, a snobby New York Times theater critic of the highest order. After confessing that she'd never drag an esteemed Broadway player's name through the mud, she coolly informs Michael Keaton's character Riggan Thomson that, no matter how good his play is, she'll pan it. And when he decries her and other critics' position of safety in judging actors from the sidelines, she tells him, "You're no actor, you're a celebrity." And with that, Riggan can't do much but slink away with his tail tucked between his talons.
---
1. Ratatouille
Ironically, the most scathing censure of critics comes directly from a critical darling. Ratatouille, written and directed by Brad Bird, features heartless restaurant critic Anton Ego (voiced by Peter O'Toole) who admits his delight in doling out ruthlessly unforgiving judgment during a humbling soliloquy. "But the bitter truth we critics must face," he writes in a rare positive review, "is that, in the grand scheme of things, the average piece of junk is probably more meaningful than our criticism designating it so." Harsh words from a writer-director who regularly hits the 90s on Rotten Tomatoes.