10 Crazy (and Not So Crazy) Fan Theories About Pulp Fiction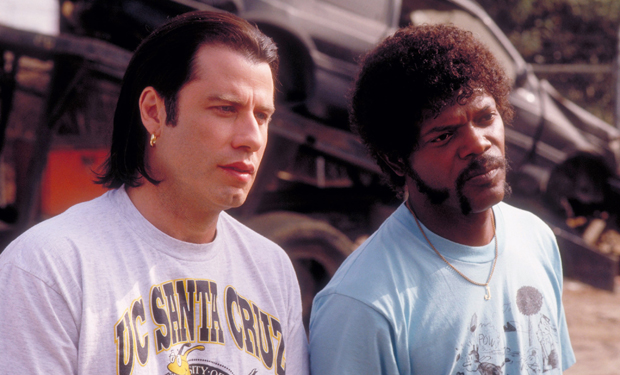 Posted by IFC on
By Mike Schuster
When Pulp Fiction hit the big screen over 20 years ago, it was a revelation. Audiences were floored by the irreverent, nonlinear narrative, the whip-smart dialogue, and the compelling characters that made it an instant classic. Thanks to Quentin Tarantino's trademark direction and writing role (here, shared with Roger Avary), the movie exemplified '90s cinema, spawned hundreds of imitators, and remained a favorite for the past two decades.
But it's the deeper meaning and ambiguity to the story and players that keep viewers riveted and speculating to this day. Pulp Fiction has sparked more theories and arguments than almost every film since its release, and continues to do so. Here are just a small selection of the theories proposed by the movie's millions of fans.
10. Mia's a virgin.
While most of Mia and Marsellus' marriage is shrouded in mystery, enough is revealed to know they'd designate it as "It's Complicated" on their online profiles. They seemingly have nothing in common, barely share one scene together, never profess heartfelt love for one another, and the impetus for Marsellus to throw Tony Rocky Horror off the roof was for anything but an "innocent" foot massage.
But perhaps most damning to their marriage's facade, the crime boss entrusts his good-looking, smooth-talking lackey to take his wife out and show her a good time — knowing the two of them well enough that they'd likely hit it off.
Sure enough, they're practically a perfect match and immediately share a kinship that manifests into full-on sexual tension. And it's a couple of musical cues and a very symbolic garnish that suggests Mia is hoping that Vincent will be her "first."
When Vincent arrives to pick Mia up, Dusty Springfield's "Son of a Preacher Man" plays in the background. The song revolves around a "sweet-talkin', sweet-lovin'" boy who is the "only one" to ever whisk a young lady off her feet. The only one who could ever "reach" her, "teach" her, "groove" her…You get the idea.
Later, arriving home from the dance contest, when things are getting pretty heavy, Mia suggests drinks and rocks out to some music, namely Urge Overkill's cover of "Girl, You'll Be a Woman Soon." Hard to not read into that.
But the literal cherry on top of this theory is Mia's playful nursing of a maraschino during her first awkward silence with Vincent. "Cherry," of course, is slang for a woman's virginity.
---
9. Jules didn't misquote Ezekiel 25:17…at least in Tarantino's universe.
It doesn't take a religious scholar to know Tarantino took some liberties with Jules' memory of scripture. Twice, he supposedly recites the passage Ezekiel 25:17 — each time with slight variation — but as if the Bible wasn't ruthlessly savage enough, Jules adds some pepper to the ecclesiastical gumbo. In case you didn't already have it memorized, he says:
"The path of the righteous man is beset on all sides by the inequities of the selfish and the tyranny of evil men. Blessed is he who, in the name of charity and good will, shepherds the weak through the valley of the darkness. For he is truly his brother's keeper and the finder of lost children. And I will strike down upon thee with great vengeance and furious anger those who attempt to poison and destroy my brothers. And you will know my name is the Lord when I lay my vengeance upon thee."
In actuality, the passage reads:
"I will execute great vengeance on them with wrathful rebukes; and they will know that I am the Lord when I lay My vengeance on them."
Now, kung fu fans might be aware that Jules' version actually comes from the opening of the 1976 martial arts flick The Bodyguard featuring then-future Tarantino talent, Sonny Chiba. But in the universe where Pulp Fiction takes place, that version might not be a misquote.
Redditor ProfessorStephenHawk shares a theory on the variation within this particular movie's universe. Similar to how Inglourious Basterds depicts a world where Hitler and his cohorts were gunned down in a fiery blaze, a slightly different translation of the Bible — complete with more righteously violent language — could influence Western civilization to be (even) more vengeful and view murderous retribution as not only morally justified but also consecrated by God.
---
8. Kill Bill is the pilot Mia starred in.
Before we meet Mia, Jules informs Vincent about her aspirations to become an actress and the unsuccessful pilot she starred in that "went on to become nothing." On their date, Mia shares more details to Vincent about Fox Force Five and its Charlie Angels-like plot, themes, and characters. It sounds like trashy fun and could easily fit into Tarantino's repertoire. And nine years later, with the release of Kill Bill, he proved it could be.
As per Mia's description, Fox Force Five revolves around a team of female secret agents, each with their own weapons specialty. Aside from Michael Madsen's character Budd, that's a pretty fitting summation of the Deadly Viper Assassination Squad, the team of expert killers carrying out missions under David Carradine's watchful tutelage in Kill Bill. And check out the Triple-F lineup:
"There was a blonde one…She was the leader," Mia says. "The Japanese Fox was a kung fu master. The black girl was a demolition expert. French Fox's speciality was sex. [Mine was] knives."
Respectively, that could easily be Elle Driver (Daryl Hannah), O-Ren Ishii (Lucy Liu), Vernita Green (Vivica A. Fox), Sofie Fatale (Julie Dreyfus), and Beatrix Kiddo/The Bride (Uma Thurman).
Tarantino even admits to Kill Bill (as well as From Dusk 'til Dawn) taking place in a "movie movie universe," meaning that they're films that the characters in Pulp Fiction would go see in theaters.
---
7. The movie represents the history of rock and roll.
Upon its release, Pulp Fiction was notable for countless reasons, one of which was its complete immersion in pop culture. Playing like a collage of Tarantino's upbringing, it cuts-and-pastes cultural touchstones with its visual homages, snappy dialogue, and vintage cereal boxes. Even its bestselling soundtrack, featuring meticulously hand-picked songs, underscores how literate Tarantino is with the history of music. In fact, according to another Reddit user, the entire movie may represent the evolution of rock and roll.
"The briefcase is rock and roll," the user states. Marsellus "represents the origin of rock music in America (blues, motown, soul, etc)" with Jules and Vincent filling in as Chuck Berry and Elvis Presley. (Vincent's Elvis persona is also called out by Mia in a deleted scene, and it's fitting that he also dies in the bathroom.)
"They go to get the briefcase back from the nerdy white guys trying to steal it," the crazy-yet-plausible theory continues. "Maybe they represent greedy record producers that profited off of Black music and screwed over many Black musicians. The reason the guy that unloads a gun at them [and] is unable to hit them is because legends of music can never die and will be around forever."
Each group of characters represents other genres and how they interact with or evolved from one another. Honey Bunny and Pumpkin (aka "Ringo") serve as the British Invasion — although another Redditor suggests they're Sid Vicious and Nancy Spungen, given their crude and inexperienced nature. Maynard and Zed exemplify country music, effectively stealing the blues and "raping" the soul out of it.
Piggybacking off this, more users run with the theory and surmise that Mia is disco — addicted to coke, dies, and is brought back to life…by John Travolta.
---
6. It's Brett's soul in the briefcase, not Marcellus'.
Released just as the Web was catching on, Pulp Fiction was the subject of many online discussions, chief of which was the contents of the briefcase. Aside from the basic suggestions like heroin or gold, the most popular argument was that it contains Marcellus Wallace's soul — based on the "666" combination, the "beautiful" glowing contents, the Band-Aid on the back of his neck, and the incorrect notion that the Devil steals the soul from that very spot.
Although Tarantino and fellow screenwriter Roger Avary assert that the contents are "whatever the viewer wants them to be," the Soul Theory and its factually incorrect reasoning are still being repeated today. However, a new variation on the concept maintains that it is Marcellus' soul in the briefcase — it just didn't originally belong to him.
Redditor TheGeek1963 argues it is Brett's (Frank Whaley) soul in the briefcase and he stole it back after selling it to the Devil (or Marcellus, in this scenario). Marcellus sends Jules and Vincent to retrieve it and dole out the appropriate punishment for trying to "screw" Marcellus Wallace and weasel out of the deal. This keeps everything credible from the original Soul Theory and adds more plausibility with the involving parties.
5. Fabienne is pregnant, or really wants to be.
While it's not explicitly mentioned, Fabienne's fascination with pregnancy is very evident during her pillow talk with Butch. She confesses she'd love to have "a pot" (meaning a "pot belly" in her broken English) while maintaining a normal figure. "The rest of you is normal," she says. "Normal face, normal legs, normal hips, normal ass. But with a big, perfectly round pot-belly."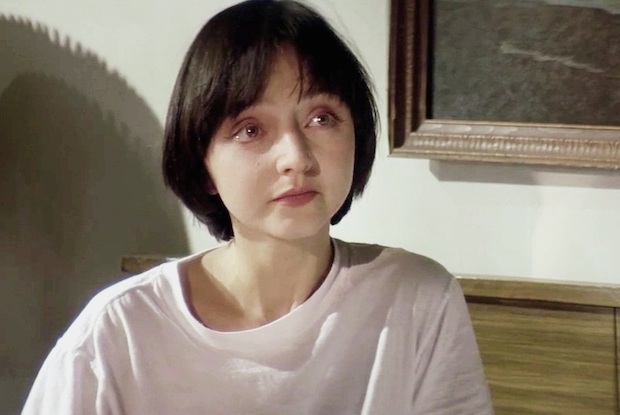 But Fabienne's "baby fever" appears to be more like actual pregnancy based on her subsequent behavior — specifically, craving blueberry pancakes, her quick-to-tears reaction to Butch's urgent requests to leave, and her intention to tell Butch something but says "Forget it" when she realizes he's fallen asleep. Probably something important.
Further, Butch appears to be oblivious to the clear hints Fabienne is offering, but his reaction to the original comment ("If you had a pot belly, I'd punch you in it.") nevertheless reflects his father issues and presumed fears of not measuring up to his own war hero dad.
---
4. Butch is the one who keyed Vincent's car.
We see Butch interact with Vincent in only two scenes, but the mutual animosity drips from the screen.
The two toughs cross paths at the dive bar after Butch accepts Marsellus' payoff and Vincent scrubs himself of Marvin's brain matter and walks away from a holdup. One's grappling with his bruised pride, the other's just had a really harrowing morning. In short, they're both pretty testy.
Vincent silently stares at Butch, perhaps sensing his forthcoming betrayal to his boss-slash-friend, or just simply despising the "punchy" "palooka" for being a mindless brute. Butch, put off by Vincent's jibes and likely jealous of the relationship he shares with Marsellus, bites his tongue and bides his time while Vincent chats with the boss. And while we think he doesn't deliver his revenge until he kills Vincent, Butch squeezed in one bit of reprisal off-screen before then.
Vincent relates to his dealer that someone keyed his treasured Chevy Malibu after it had been in storage for three years and out on the road for a mere five days. He doesn't know the identity of the "dickless piece of shit" who pulled it off, but Tarantino himself admitted it was Butch.
During an interview with Opie and Anthony, the suggestion of Butch being the perpetrator came up and Tarantino replied, "Oh yes! And that's very good on your part! That's good reading between the lines!"
---
3. Tony Rocky Horror made a pass at Marsellus.
At the film's start, word around the campfire is that Marsellus sent his goons to throw Antoine Rockamora (aka Tony Rocky Horror) off a four-story balcony and through a glass-top greenhouse because he had given Mia a foot massage. It's not until Vincent's date with Mia that we learn, according to her, that "the only thing Antoine touched of [hers] was [her] hand when he shook it." She continues, "The truth is, nobody knows why Marsellus tossed Tony Rocky Horror out of that window except Marsellus and Tony Rocky Horror."
So what could the reason have been? What could have incensed Marsellus so much that he came close to killing Tony and give him a speech impediment?
Well, Reddit user WhatEnglish has a theory: Tony Rocky Horror made a pass at Marsellus.
As Mia indicates, whatever happened between Marsellus and Tony is between them. Similarly, after his "encounter" with Zed and Maynard, Marsellus stresses that the matter remains between him, Butch, and "the soon-to-be-livin'-the-rest-of-his-short-ass-life-in-agonizing-pain, Mr. Rapist here." Adding, "It ain't nobody else's business."
And as Jules tells Brett, "Marsellus Wallace doesn't like to be f–ked by anyone but Mrs. Wallace."
Moreover, although Jules explains Tony got his nickname for his half-black, half-Samoan heritage, he is named after a movie starring a libidinous, sexually ambiguous transvestite. Perhaps Tony's amorous behavior lent itself to the nickname and, unfortunately, sent him hurtling through a greenhouse ceiling.
---
2. Captain Koons is actually Butch's dad.
He's only on screen for a few minutes, but Christopher Walken nevertheless delivers a tour de force performance as Captain Koons. In his much-imitated flashback, Walken tells five-year-old Butch his history with Butch's father, Major Coolidge, and a very treasured watch. But upon closer inspection of the script and the timelines, a few things don't add up.
Redditor Klaxaction analyzes the scene from a number of different viewpoints.
The user points out how Butch's mother opens the scene by calmly asking, "Do you remember when I told you Daddy died in the POW camp?" The strange manner of exposition and the tone by which it was delivered, it's as if she was about to divulge that it was all a lie — like a parent revealing the truth about Santa. "If Daddy did die in the POW camp," Klaxaction writes, "presumably she just now met Captain Koons and heard the whole story of what happened to her husband for the first time. Shouldn't she be more worked up about this?"
Koons also begins his talk with Butch with, "Hello, little man. Boy, I sure heard a bunch about you." How exactly? Did Major Coolidge relay the information to Koons after receiving letters from his wife which somehow got past the Vietcong prison guards? Also, Koons' knowledge about the watch's history, going back generations to Butch's great-grandfather, the dates, the places, the circumstances, the very personal and emotional recitation — "[This] doesn't sound like a man telling another man's story to me," Klaxaction writes.
Then there's the dubious time frame. Butch is five years old, according to the script. But Koons says, after Butch's father hid the watch for five years and handed it off to Koons, "I hid this uncomfortable hunk of metal up my ass for two years. Then, after seven years, I was sent home to my family." So, if Butch couldn't be any less than seven years old, why is his age clearly stated to be five?
Klaxaction summarizes the theory thusly:
"To me, the conclusion comes right there on the screen in the way the scene is acted, Koons' vast knowledge of the watch, and the expectation of some kind of complicating layer in everything so far in [the movie]. Koons/Coolidge and the mother are telling Butch a convenient story so the watch can be passed along while sparing a small child the truth of his father abandoning them or the separation of the parents, whatever the case may be."
---
1. Mr. Pink appears in Pulp Fiction.
It's no secret that friendships, family lines, and burger chains span across multiple Tarantino films, linking several movie universes into one. Vincent and Michael Madsen's character in Reservoir Dogs are brothers. Jimmie's wife Bonnie is mentioned by characters in Reservoir Dogs. And Jimmie shares the surname Dimmick with Mr. White, indicating a mutual bloodline.
But in a role so small that it could qualify as a cameo, Steve Buscemi plays a Buddy Holly lookalike who waits on Vincent and Mia at Jack Rabbit Slim's. And again, although it's not explicitly stated, poetic justice would dictate that it's really Mr. Pink.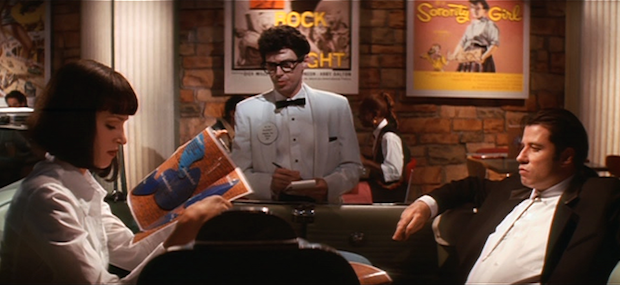 During the tip discussion at the top of Reservoir Dogs, Mr. Pink explains his reasoning for not tipping waitstaff and at one point says, "Look, I used to work minimum wage."
If we're to assume there are no accidents or coincidences in the Tarantino universe, that leaves us with two conclusions: Mr. Pink worked at Jack Rabbit Slim's prior to becoming a bank robber in Reservoir Dogs, or — thanks to a stint in the clink as well as a heap of irony — he's back on the minimum wage payroll and at the financial mercy of non-tippers like himself. Either way, it's safe to say he's not drinking many $5 shakes.